‌
Product description: LattePanda Sigma - 16 GB RAM - M.2 NVMe - Intel Core i5-1340P
LattePanda Sigma is another version of the popular single board computer (SBC). The minicomputer was based on the 13th generation Intel processor - Intel Core i5-1340P with 12 cores and 16 threads. It is clocked from 1.9 GHz to 4.6 GHz for Performance-Core cores. It has an integrated Intel Iris Xe Graphics graphics chip clocked from 400 MHz to 1450 MHz. The board is equipped with 16 GB of dual-channel LPDDR5 6400 MHz RAM . M.2 (NVMe/SATA) and SATA 6 Gb/s connectors allow for the installation of SSD and HDD drives. Additional WiFi , 4G, 5G modules allow you to expand the minicomputer's capabilities with wireless communication. The many available pins also include USB3.2, Thunderbolt 4, Ethernet, HDMI, and eDP. The ATmega32U4-MU coprocessor is compatible with Arduino and allows the use of GPIO connectors to connect sensors and many other modules. The computer supports Windows 10, 11 and Linux .
The manufacturer has prepared a detailed user's guide , which makes it much easier to start working with the minicomputer - check it out!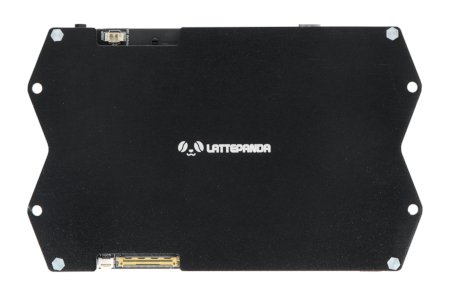 The bottom side of the computer is protected with a metal plate.
Main features of LattePanda Sigma
The 13th generation Intel processor - Intel Core i5-1340P with 12 cores and 16 threads is characterized by very good performance.
Fast RAM - 16 GB of dual-channel LPDDR5 memory clocked at 6400 MHz allows you to use many applications simultaneously while maintaining high speed.
Wireless communication possibilities - built-in M.2 connectors allow the use of WiFi, as well as 4G and 5G modules.
Multiple video outputs - HDMI 2.1, USB Type C (DP 1.4a with resolution up to 8K) and eDP for use in embedded systems.
High data transfer speed - 2 x USB3.2 Gen 2, 2 x Thunderbolt 4, 2 x Ethernet 2.5GbE guarantee fast data transfer between devices.
The built-in Atmega32U4-MU coprocessor - compatible with Arduino - thanks to the GPIO connectors allows you to connect sensors or actuators.
Support for Windows 10 and Windows 11 operating systems, as well as Linux systems: Ubuntu, Promox VE.
Pinout layout on the LattePanda board
Thunderbolt 4
Micro SIM card slot
2 x USB 2.0
Power button with LED
Coprocessor reset button
Power connector 5.5 mm x 2.5 mm DC Jack
Thunderbolt 4
HDMI 2.1
Ethernet 2.5GbE RJ45
Ethernet 2.5GbE RJ45
2 x USB 3.2 Gen 2
3.5mm audio jack
SATA data connector
A detailed description of the pinouts can be found in the documentation .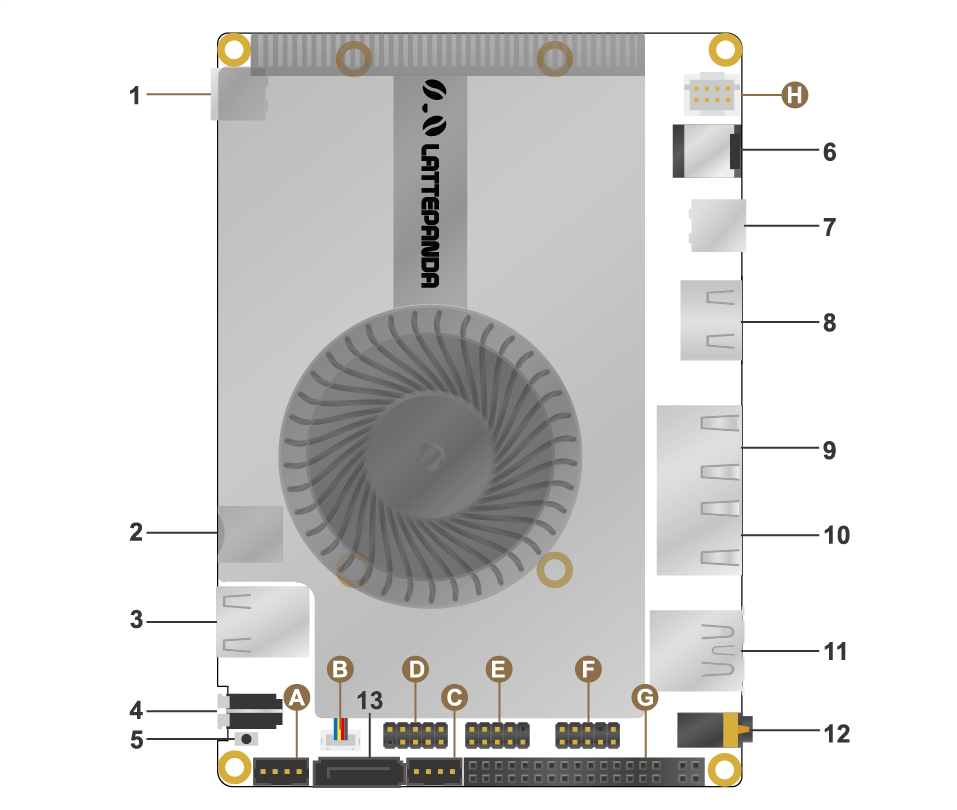 Many pins of the LattePanda Sigma minicomputer.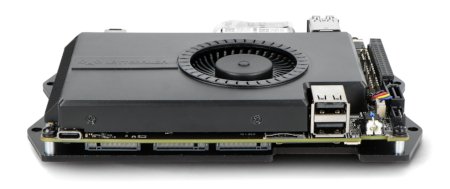 A small fan is responsible for cooling the computer.
What is needed to run LattePanda?
M.2 or SATA disk - for installing the operating system and storing data
Power supply - a dedicated 90 W power supply is included in the set
External monitor - connected to the HDMI or USB Type C (Thunderbolt) port
HDMI/USB Type C cable - required to connect the monitor, it is also possible to use an eDP display
Keyboard and mouse - to control the minicomputer
Operating system - e.g. Windows 10, Windows 11 or Linux
The manufacturer has prepared a guide for easier installation of the operating system.
LattePanda Sigma minicomputer communication
Despite its compact dimensions, the minicomputer offers many interfaces known from PC computers. These include:
USB type A : 2 x USB2.0, 2 x USB3.2 Gen2 (10 Gb/s)
USB Type C : 2 x Thunderbolt 4 (40 Gb/s)
Ethernet : 2 x 2.5GbE RJ45 10/100/1000/2500 Mb/s with WOL function
M.2 connectors - allow you to connect SSD drives and wireless communication modules
SATA connector - allows the use of 2.5" and 3.5" SSD and HDD drives
GPIO - pins of the ATmega32U4-MU coprocessor can be used to operate many peripheral devices, including: sensors, buttons and engines
Technical specifications of LattePanda Sigma
Processor
Intel Core i5-1340P
Number of cores
12 (16 threads)
Operating Systems
Windows
Linux
CPU clock speed
from 1.9 GHz to 4.6 GHz
Graphic layout
Intel Iris Xe Graphics
RAM
16 GB LPDDR5-6400 (dual-channel)
Coprocessor
Atmega32U4-MU compatible with Arduino
GPIO socket
34-pin female connector
Security
TPM 2.0
USB interfaces
2 x USB2.0 type A
2 x USB3.2 Gen2 Type A
2 x Thunderbolt 4 - USB Type C connector
Network interface
2 x Ethernet ports 10/100/1000/2500 Mb/s
Video
1 x HDMI 2.1
1 x DP 1.4a - USB type C connector
1 x eDP 1.4b display connector
Audio
microphone and headphone connector - 3.5 mm Jack
M.2 connectors
2 x M.2 M key - PCIe 4.0 x4, PCIe 3.0 x4
1 x M.2 B key - SATA III/PCIe 3.0 x1, 4G, 5G communication modules
1 x SATA 6Gb/s port
1 x M.2 E key - for CNVio/PCIe WiFi modules

Power connectors
1 x DC Jack 5.5 mm x 2.1 mm - 12 V to 20 V
1 x USB Type C - PD 20V
Additional pins
1 x 4-pin USB2.0 connector - 2.0 mm pitch
1 x 4-pin fan connector - 1.27 mm pitch
1 x 9-pin connector - front panel - 2.54 mm pitch
1 x 9-pin connector - audio input/output - 2.54 mm pitch
1 x COM - RS232, RS485
RTC battery
CR1220 - 3V
Working temperature
from 0℃ to 45℃
Plate dimensions
146 x 102 x 24 mm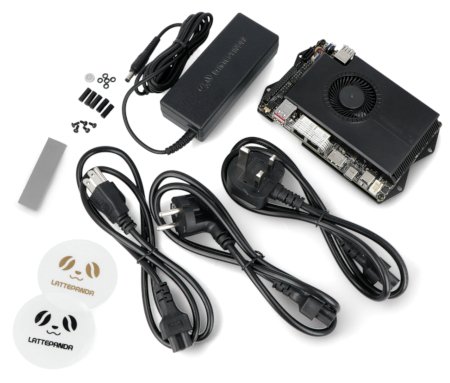 Elements included in the set.
Set contents
1 x LattePanda Sigma - 16 GB RAM - M.2 NVMe - Intel Core i5-1340P
1 x Cooling fan (built-in)
1 x Metal bottom protection plate
2 x Thermopad for M.2 SSD
1 x DC Jack Power Adapter
3 x Power Cord (EU, US, UK)
1 x RTC Battery
1 x User Manual