Product description: Electric actuator LA50P 1500 N 100 mm/sec 12 V with potentiometer - 30 cm extension
Linear actuatorwith a maximum extension of 30 cm, protected by twolimit switches.Maximum load capacity is 150kg (1500 N).Thanks to its high protection class IP65, the LA50P can be used in wet and dusty conditions. The actuator is powered by 12 V. It hasabuilt-inpotentiometer.

Electric actuator LA50P 1500 N 100 mm/sec 12 V - 30 cm extension.
Application of linear actuators
Adjustment of flaps and ploughs in motor vehicles
Opening and closing of industrial valves
Tilt adjustment of solar panels in photovoltaics
As tilt and close element for windows and doors in home automation
Agricultural machinery components
As inDC motors,the direction is changed by reversing the polarity.
Linear actuator specification LA50P
Name
Parameter
Supply voltage
12 V DC
Speed
100 mm/s
Maximum power
1500 N (150 kg)
Duty cycle
25%
Extension length
300 mm
Total length when folded in
550 mm
Mounting type
fixture H
Operating temperature
from -25°C to 65°C
Safeguards
limit switches
Leakage class
IP65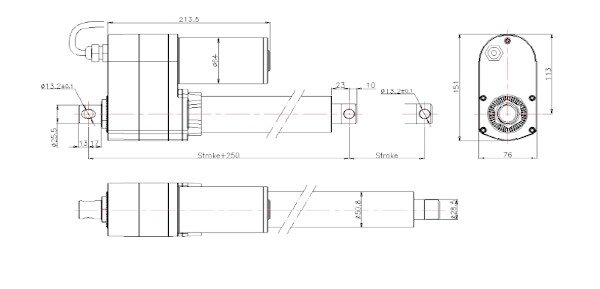 Dimensions of the LA50P.