Description: SD card reader module
The module that facilitates the connection of the SD card to the main board (e.g. Arduino or STM32Discovery). It is powered with the voltage of 5 V or 3.3 V. The communication interface is a serialSPI bus. The pins are the popular goldpin connectors to connect the memory card to the development kit (for example,STM32DiscoveryorArduino) viawires.
Attention
SD cards, normally, are working with the voltage of 3.3 V so to connect the device to Arduino, it is necessary to applya voltage converter. A detailed description of the connection is underthis address.
Technical specification of the reader module of the SD cards 
Supply voltage: 3.3 V or 5 V
Communication interface: SPI
Built-in voltage regulator 3.3 V (LM1117)
Installed slotfor SD cardswith ejector
Module dimensions: 50 x 31 mm
Diameter of mounting holes: 2.2 mm
Readers of this type may contain small scratches and defects arising from manual soldering of the elements but their functionality is fully preserved. For more demanding users, we recommend the modules that are covered with a special varnish, for example,the SD card reader from the SparkFun.
Scheme of the system of the SD card reader
The board consists of: SD card slot with ejector, a voltage stabilizer and, necessary for proper operation, the passive elements.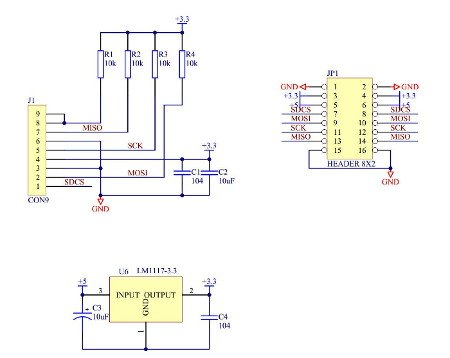 Diagram of the module with the readerof SD cards.