Product description: Cytron MD10C - single channel motor controller 30 V / 13 A
Single channel DC motor controller. Continuous current per channel 13 A (momentary 30 A). Supply voltage from 5 V to 30 V. The module can be controlled with a microcontroller such as Arduino.
Product compatible with Arduino
Sample code and detailed information can be found in the user guide.
Technical specification of the controller from Cytron
Supply voltage: 5 V to 30 V DC
Logic part voltage: 3.3 V or 5 V
Average current per channel: 13 A (instantaneous 30 A)
Number of channels: 1
PWM speed control frequency up to 20 kHz
Dimensions: 75 x 43 mm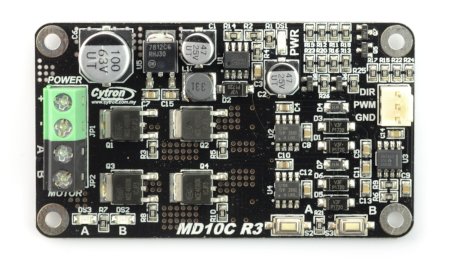 Cytron MD10C - single channel 30 V / 13 A motor controller.
Set contains
Cytron MD10C motor controller
3-pin plug and pins for the housing
Plastic spacers