Description of product: SparkFun MP3 Trigger
Module of MP3 player, allowing in an easy wayto addsound files. MP3 files are saved on the  SDSC memory and card  SDHC formatted in FAT16 or FAT32 format. The module has18 inputs, which can be activated so the system can play previously programmed MP3 files.
Board has18 external pinsof trigger (external trigger pins) that are used for track selection. Using thefull-duplex connector, we can chooseup to 256 tracksand control its volumein real time. The heart of the module is the microcontrollerCypress PSoC CY8C29466-24SXI which transmitsMP3 data from a microSD card for audio system VLSI VS1063.
Powering of player of the SparkFun MP3 Trigger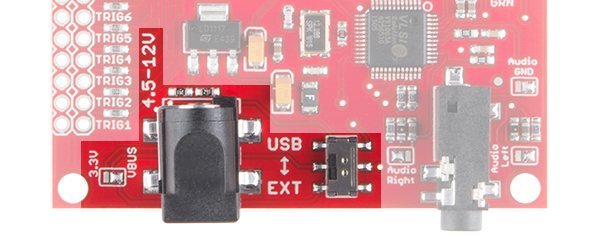 The module can power in several ways. By connectingexternal power adapter with DC plug (5.5 mm x 2.1 mm) with voltage from4.5 V to 12 V.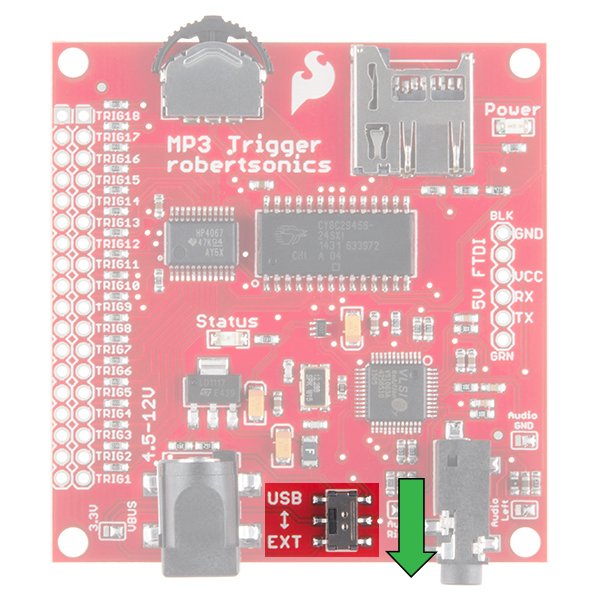 With a jumper near the DC socket. By default, it is set onVBUS. When using an external power supply to the DC slot, switch USB / EXT performs the function ON / OFF.

The module can be charged viasoldering of powering wiresdirectly to the through-holes located on the rear side of the board.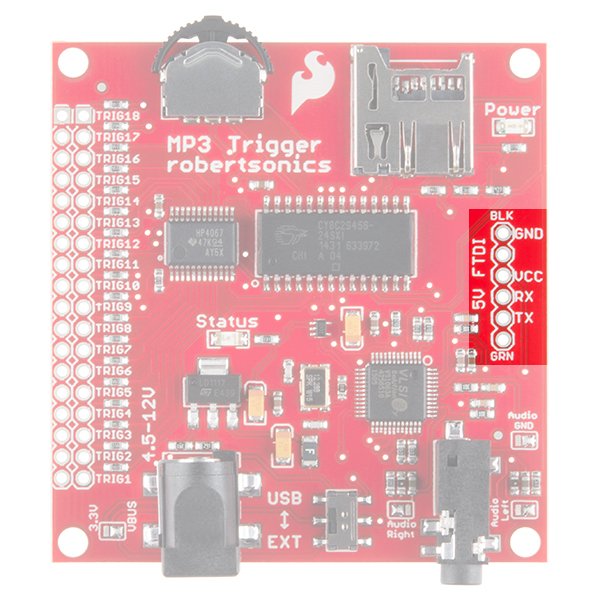 MP3 Trigger can be integrated with another project which uses a 5 V for power supply(e.g. USB port), or viathe USB FTDI adapter.
Pins Trigger in module SparkFun MP3 Trigger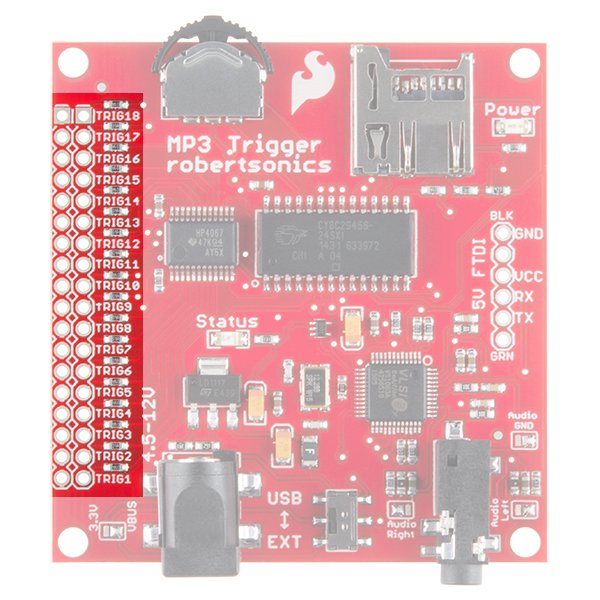 18 pins of the trigger-device after configuration, allow you to play one of the previously selected tracks from the microSD card and connector full-duplex allowing you to selectup to 256 tracks.
Navigation switch of the controller SparkFun MP3 Trigger

Navigation switchallows you to play and stop all of the tracks onthe microSD card.
microSD Socket of the module Trigger MP3

MP3 player supports microSD memory cards of typeSDSC (up to 2GB) and SDHC (up to 32GB).
Technical specification of SparkFun MP3 Trigger
Parameter
Range
Working voltage
from 4.5 V to 12.0 V DC or regulated 3.3 V, selection of jumper
Current consumption

approx. 45 mA in standby mode
approx. 85 mA while playing

Slot for microSDcards
Yes,microSD, SDSC and SDHCcards 
File system
FAT32 and FAT16
Audio output
Headphones stereo (slot stereo 1/8 ")
The triggering inputs
Logic level 3.3 V - 5.0 V, active low inputs
Serial
Full duplex, 8-bit, 38.4 Kb/s