Product description: Filament Devil Design PETG 1.75 mm 2 kg
Ablackfilament, rolled up in a spool, its diameter is1.75 mm. The net weight is2 kg.It is made ofPETGmaterial, a thermoplastic polymer from the polyester group in fibre form. Designed for3D printersworking with FFF method.
For each material in our offerweoffer ready-madeprofiles for the Cura program,which allow you to use the filament immediately and without any configuration. For this purpose we import a file dedicated to a specific model.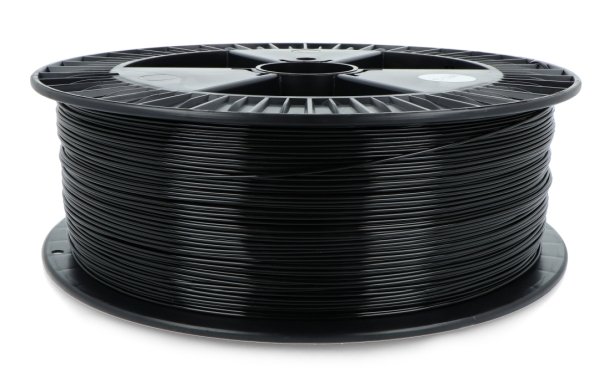 Filament Devil Design PET-G 1.75 mm 2 kg - Black.
Properties of the PETG pillar
Flexible
Odourless
Hydrophobic
High durability
Scratch resistance
Suggested print parameters for filament
| | |
| --- | --- |
| Head temperature | From 220°C to 250°C |
| Table temperature | From 70°C to 80°C |
| Cooling the printout | Optional |
Specification of Devil Design PETG filament
Parameter
Scope
Diameter of pillar
1.75 mm
Dimensional tolerances of the philanthropy
+/- 0.05 mm
Roughness of the philanthropy
+/- 0,02 mm
Material surface
High gloss
Material contraction
Very low
Weight of empty spool
About 250 g
Reel diameter
200 mm
Reel width
About 70 mm
Mounting hole diameter
52 mm
The colour of the pillar
Black
Type of philanthropy
PET-G
Vacuum packing
Yes
Product weight
2 kg net
Due to design differences between printers, the above data should be treated as a guide and the corresponding values should be determined experimentally.
One of the most popular 3D printing pillars
Manufacturers of 3D printing consumables constantly outperform each other in providing users with newer and more versatile materials. PETG has a lot to offer in this respect, because in its properties it combines the advantages of two currently most popular plastics: PLA and ABS.
One of the biggest advantages of PETG is that it can be used even in home workshops, because it is practically odourless during printing. There are also no particularly high requirements for setting up a 3D printer - in the case of PETG, the temperature of the nozzle should be between 220°C and 250°C, while the temperature of the work table should be between 70°C and 80°C.
Durable pillar with high flexibility
Filament Devil Design PETG 1.75mm 2kg - Black stands out - similarly to other consumables for 3D printers made of PETG - for its high durability. At the same time, it is flexible and thus resistant to cracking.
The advantage of this pillar is its low tendency to shrink, thanks to which it is possible to print on most printers - also those without a closed chamber. Devil Design in black has a universal character - it can be used in many different projects, including prototypes or elements of mechanisms. We offer the film in a high-performance, 2-kilogram spool.