Product description: Argon Mini Fan for Raspberry Pi 4B with switch and heatsink
Mini Fan is a fan module designed forRaspberry Pi 4B. The product has dimensions of45 x 45 x 15 mmand uses only 12 GPIO pins in the Raspberry Pi. This allows you to use the rest of the GPIO pins in other projects. The HAT fan is fully controlled by theON - OFF - PWMswitch. You can turn it on, off or program it to turn on at a specific temperature. Athermocoupleis also included for better heat transfer from the PCB to the heat sink on the bottom of the unit.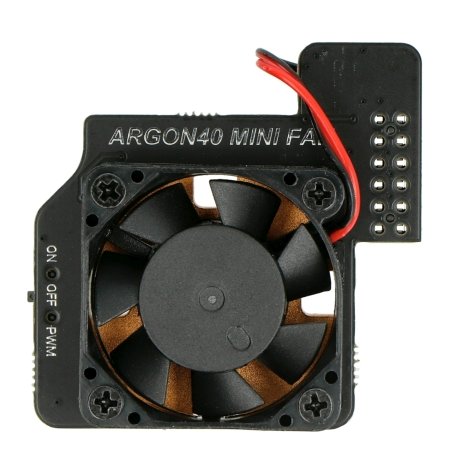 Argon Mini Fan for Raspberry Pi 4B with switch and heat sink.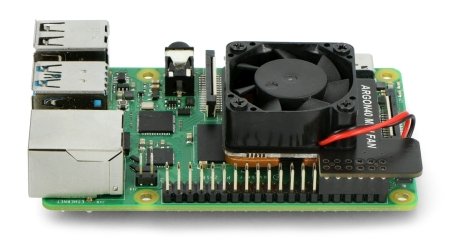 Mini Fan,Raspberry Pimini computer can be purchased separately.
Fan settings
Open the Terminal on Raspbian
Go to the main directory and open it:
/boot/config.txt file
Open and edit the file "config.txt" by typing:
sudo nano config.txt
dtoverlay=gpio-fan,gpiopin=18,temp=55000
Save your changes and exit by pressing Ctrl+X

This setting will run the mini fan at 55°C CPU temperature. Of course, you can set another desired fan activation temperature.
Fan specification
Compatible with Raspberry Pi 4B
Uses 12 of the 40 GPIO pins in Raspberry Pi
Fully switchable
Can be switched on at any assigned temperature when set to PWM control
Built-in heat sink for additional cooling
Dimensions: 45 x 45 x 15 mm
Set contents