Product description: Case for Raspberry Pi Zero / Zero W / Zero 2 W - protective aluminum - Waveshare 23027
Housing made of aluminum alloy , which protects the module Raspberry Pi Zero / Zero W / Zero 2 W. Thanks to the material used, it also acts as a heat sink , which effectively dissipates the heat generated by the plate during operation. The construction of the housing is partially open , which means that the user has easy access to all connectors and ports of the module - GPIO pins and the CSI-2 camera port, microSD memory card slot, miniHDMI port, USB 2.0 OTG and power connector. In addition, there is a cutout in the upper part of the housing, which means that the housing does not interfere with the WiFi connection. The dimensions of the mounted housing are 65 x 30 x 13 mm . The set also includes a colored label with GPIO pins, which can be glued on the top of the housing or on the bottom.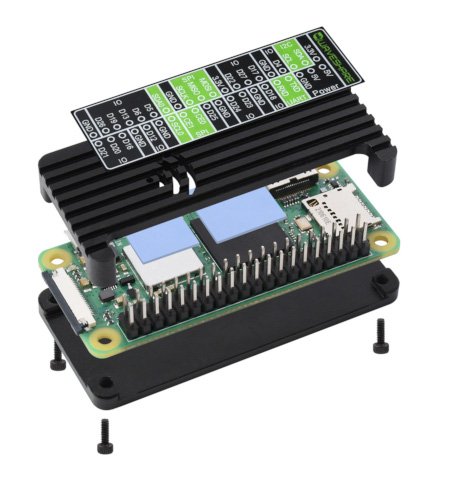 Assembling the case with the Raspberry Pi is simple and quick and does not require the use of additional tools.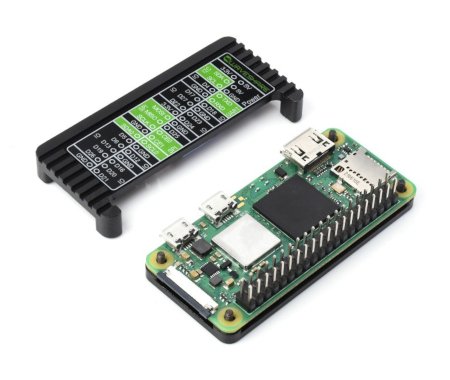 Raspberry Pi is not part of the set - it must be purchased separately.
Housing technical specification
Purpose: for Raspberry Pi Zero / Zero W / Zero 2 W
Type: partially open
Derived Ports:

GPIOs
camera CSI-2 connector
slot for a microSD memory card
miniHDMI port, USB 2.0 OTG
power connector

Material: aluminum alloy
Black colour
Dimensions of the mounted housing: 65 x 30 x 13 mm
Kit contents
Case for Raspberry Pi Zero / Zero W / Zero 2 W - protective aluminum - 1 piece
Color label with GPIO pins - 1 piece
A set of mounting elements