Product Description: Yihua 938BD+I 2-in-1 Hot Air and Soldering Station with Fan in Flask - 750 W
The device combines the function of soldering irons and hot air blowing (hotair) with an air turbine located in the flask. Total power of the station is 750 W. Yihua 938BD+I has a number of improvements to facilitate work: sleep function, automatic shutdown and temperature memory
Yihua 938BD+I 2-in-1 Soldering Station is compliant with the specifications of the Future Labs program.
Advantages of Yihua 938BD+I soldering station
Two devices in one. Due to compact size it takes up little space
Clear LCD display for easy reading
Yihua 938BD+I is controlled by a microcontroller. As a result, the station heats up quickly and provides high temperature stability
High-quality housing and heating elements with long service life
The devices are protected against ESD discharges
Ergonomically shaped flasks. Allows a precise and stable grip
The station is designed to work especially with SOIC, QFP, PLCC, BGA, SMD chips. It is also an invaluable tool for i.e. heating up, annealing heat shrink sleeves, tanning paint
Technical specification of Hotair soldering iron
Hot air temperature control: from 100°C to 480°C
Air blowing source: fan
Temperature stability: +/- 2°C
Air flow: up to 120 liters/minute max
Display: LCD
Maximum length of the connecting cable: up to 90 cm
The fan uses a brushless motor. It is quiet during operation and provides a stable level of airflow
Technical specifications of soldering irons
Soldering tip temperature control: from 200°C to 480°C
Temperature stability: +/- 2°C
Potential between the tip and ground: < 2 mV
Resistance between tip and ground: < 2 Ohms
Soldering irons: 907 I
Cob soldering iron power: 60 W
Protection: ESD Safe
Display: LCD
Maximum length of the connecting cable: up to 90 cm
Powerful heater allows you to quickly reach the desired temperature and effectively compensates for heat loss during operation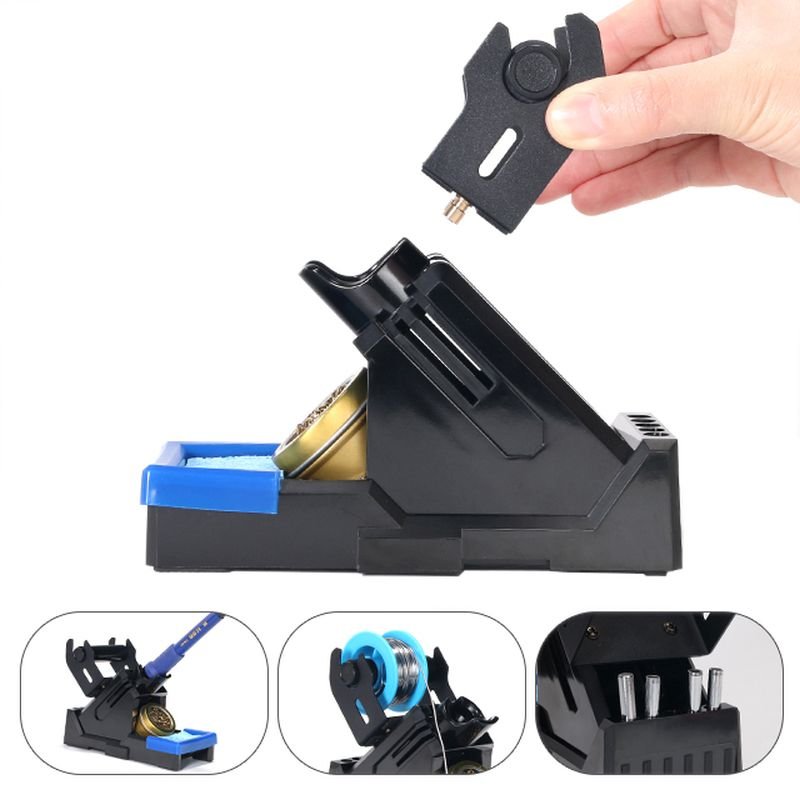 Selected kit items. Blades can be purchased separately
.
Technical Specifications Yihua 938BD+I
Supply voltage: 220 to 240 V AC
Power: 750 W
The station is controlled by a PID microcontroller
Yihua 938BD+I provides uncomplicated and fast flask replacement
Sound signaling
Operating temperature (ambient): 0°C to 40°C
Storage temperature: from -20°C to 80°C
Device dimensions: 150 x 136 x 100 mm
Set contents
Yihua Soldering Station 938BD+I
Soldering iron holder with sponge for cleaning the soldering irons (sponge should be moistened before use)
Tin holder, tip cleaner
Soldering iron model 907I with type I tip
Set of three round nozzles with diameters: 4,4 mm; 8 mm; 9 mm
Power cord
Instruction manual
Initial start-up
When the equipment is delivered, do not immediately start it up.
The equipment should be left at room temperature for approximately 12 hours before startup.
Any fault report caused by premature start-up of the equipment will be rejected.
Note
Heating elements (heaters) and tips are not subject to warranty and replacement is free of charge.