Product description: OLED display 1,3'' 128 x 64 px - expansion module Unit for M5Stack developer modules
Unit typeexpansion module in the form ofOLED display. Screen diagonal is1.3'' and its resolution is128 x 64 px. A single pixel has dimensions of 0.17 x 0.17 mm. The display has an embeddedSH1107chip for control. The module presents values in two colors:black and white. It uses theI2Cbus to communicate with the M5Stack development module (to which it is connected using the included cable). In rear part of the display casing there is amagnetic overlay, which allows attaching it to any metal surface - thanks to adsorption overlap.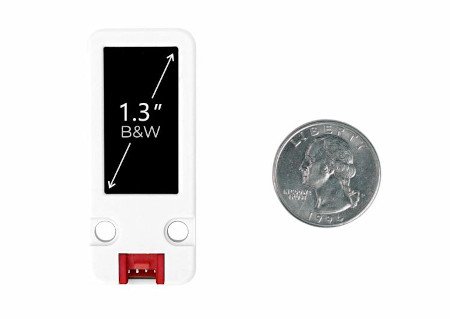 Unit type expansion module in the form of OLED display from M5Stack.
Technical specification of the display from M5Stack
Compatible withM5Stackdevelopment modules:M5Stack Core,M5Atom,M5Stick
Type: OLED display
Built-in control chip: SH1107
Display colors: black and white
Display resolution: 128 x 64 px
Screen diagonal: 1,3''
Viewing angle: full
Current consumption: 58 mA
Communication interface: I2C bus
Interface address: 0x3C
Housing material: plastic (PC)
Built-in magnets enabling non-invasive assembly
Pinout designations:

SCL - I2C bus clock line
SDA - I2C bus data line
5V - power supply pin
GND - system ground

Display dimensions: 14.7 x 29.42 mm
Pixel dimensions: 0,17 x 0,17 mm
Module dimensions: 24 x 56 x 8 mm
Weight: 9.3 g
Set contents
OLED display 1,3'' 128 x 64 px - expansion module Unit
Dedicated 4-pin connection cable
In our offer you will also find otherUnit type extensionsfor M5Stack series development modules. We invite you to familiarize with available range.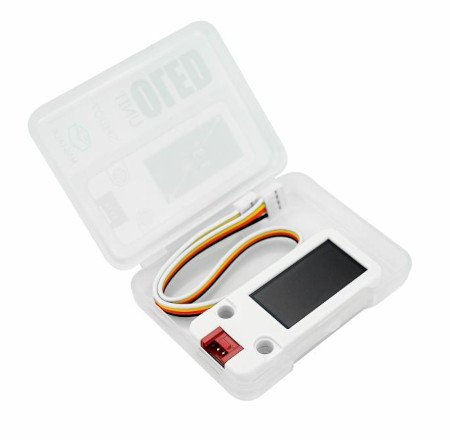 The kit is placed in a small plastic container, which makes easier to transport and store the module and cable.