Specification
Wheel diameter: 40 mm
Bus width: 6.5 mm
Hole diameter : 3mm (D-shaped)
Weight: 4.3 g
Number of wheels included: 2
Description
The wheels were designed to fit in an interference fit on the shaftsof the Pololu micro motors. We also cooperate with the plastic corner engines.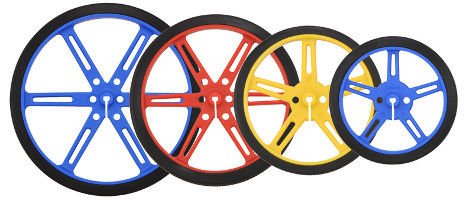 We also offer the wheels and tires from Pololu in other sizes.
Dimensions
The diameter with the tyre is 40 mm. Overall width is 7 mm. Mounting hole is shaped like the letter "D" with a diameter of 3mm. Wheel dimensions are shown in the figure below.