Product description: LC709203F - Li-Pol / Li-Ion battery indicator - STEMMA QT / Qwiic - Adafruit 4712.
Battery level indicatorfrom Adafruit. It allows to measure the voltage ofLi-PolandLi-Ionbatteries. Displays thevoltagevalue andpercentage chargeof the cell. The module communicates through theI2Cinterface and is poweredfrom 3 V to 5 V. It is compatible with Arduino and Raspberry Pi (I2C port must be configuredbefore connecting from Raspberry Pi).
This product is compatible with Arduino and Raspberry Pi.
The manufacturer provides auser guideandlibraryfor Arduino IDE.
Indicator outputs
A dedicated STEMMA QT /Qwiicconnector or standard 2.54 mmgoldpin pinscan be used. Additionally, there aretwo equivalent JST portson the board. One of them should be connected to thebatterywhose measurement is to be made, and the other one should be connected to themicrocontrollere.g. Arduino, Raspberry Pi.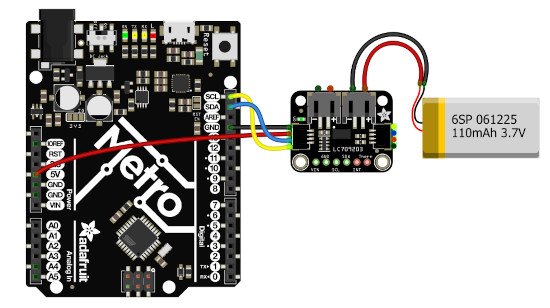 Connection of the indicator with the Arduino Metro board.
Pin
Description
VIN
Supply voltage from 3 V to 5 V DC
GND
System weight
SCL
I2C interface clock line
SDI
I2C interface data line
INT
Pin interruption
Therm
Reading the temperature of the battery
Ports of TSU
Equivalent outputs
1 - battery connection
2 - microcontroller connection
Specification
Power supply: 3 V to 5 V DC
Communication interface: I2C
I2C interface address: 0x08
Battery types: Li-Pol / Li-Ion
Set contents
Sensor LC70923F
Connection cable JST-PH 2-pin - 1 pc.
Connectors goldpin raster 2,45 mm