Description: TB6612FNG - dual channel 13.5V/1A motor controller - Polol 713.
The H-bridge TB6612FNGisa high-performance motor controller in a small and SSOP24 enclosure. The Polol company has met the expectations of users and created a module containing TB6612FNG system and passive components needed forits properoperation.

The signals have been output on traditional pins (2.54 mm raster).The module can be plugged into the contact board or
connected
by wires.
For Arduino users there is a library availablefor easyoperation of the module.
Motor controller outputs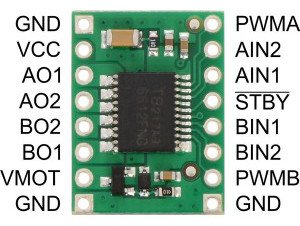 | Pin | Description |
| --- | --- |
| VCC | power supply for the logical part |
| VMOT | motor power |
| GND | mass |
| AO1 AO2 | Channel A outputs |
| BO1 BO2 | Channel B outputs |
| PWMA | Channel A PWM signal |
| PWMB | Channel B PWM signal |
| STBY | Pull up to the VCC to turn the system on, the low state (default) switches the system to a sleep state (low power consumption) |
| AIN1, AIN2 | channel A direction control |
| BIN1, BIN2 | channel B direction control |
All logical signals are internally pulled up to ground. The maximum PWM frequency is 100 kHz.
TB6612 controller truth table
AIN1
BIN1

AIN2
BIN2

PWMA
PWMB
Outputs
engines

state
high

state
low

% filling

(different from zero)

The motor turns at the maximum setpoint speed via pwm (other than 0) clockwise.
state
low
state
high

% filling

(different from zero)

The motor turns at the maximum set speed via pwm (different from 0) counterclockwise.
state
low
state
low
without
meaning

free braking

(soft stop)

state
high
state
high

without
significance

free braking

(soft stop)

without
meaning
without
meaning

low

0% filling

Rapid braking
(so called hard-stop).
The TB6612 can be used as a controller for Polol micromotors.If the motors are subject to a standstill, it is recommended to merge the channels in order to achieve greater current efficiency. For this purpose, the following leads should be connected together:

AO1 with BO1
A02 with BO2
PWMA with PWMB
AIN1 with BIN1
AIN2 with BIN2
Diagram
The module contains a soldered bridge with goldpin leads, with a standard 2.54 mm grid. Filtering capacitors are also placed on the board, which makes the proper connection to the microcontroller sufficient for the system to work properly. The diagram is available at thisaddress.
Othermotorcontrollers, including a separateTB6612, are also available.
Video controller
Video describing the operation of the H-bridge - DC motor controller.

Polol TB6612FNG controller specification
Engine power supply (VMOT): 4.5 V to 13.5 V
Logic power supply (VCC): 2.7 V to 5.5 V
Maximum output current: 3 A per channel
Continuous output current: 1 A per channel
When both channels are connected: 2 A
Maximum PWM frequency: 100 kHz
Built-in thermal shutdown circuit
Filtering capacitors on both power lines
Protection against backflow from motors