Product description: Housing for Raspberry Pi 4B with camera mount - black
DIY product from Gravlaser. The casing consists of six parts and assembly elements. It is designed for Raspberry Pi 4B model minicomputer. It is made of acrylic in black colour. The top cover is equipped with special mounting holes for mounting the camera. Housing parts have precise cut-outs for 3.5mm audio jack, HDMI, USB, Ethernet connector and microSD memory card slot. The rear part has additional ventilation holes.
Parts of the case are covered with a thin layer of protective film, before installation you need to remove it.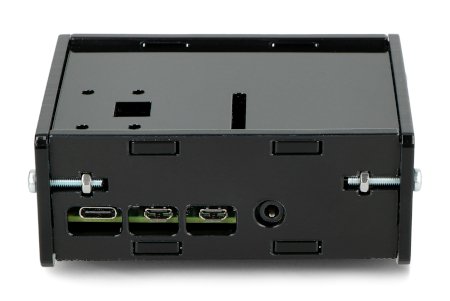 Housing for Raspberry Pi 4B with camera mount - black. Raspberry Pi 4B is not included, it can be purchased separately.
Kit contents
Six-piece self-assembly enclosure
Mounting screws
Screw caps
Housing specifications
Compatible with Raspberry Pi 4B
Color: black
Construction material: 3mm thick acrylic
Dimensions after folding: 92 x 68 x 32 mm
Perfectly cut enclosure for Raspberry Pi 4B
Manufacturer Gravlaser offers a black acrylic case. Each element of the case is laser cut to the highest precision. Thanks to that, assembling the case and the minicomputer in it is very easy - all connectors fit perfectly in the milled holes. Also, thanks to the holes in the top cover, you can easily pass the multi-wire tape of the minicam module. To mount the camera, just use the four Phillips screws included in the kit.
We also recommend checking out our blog articles: