Product description: 5V 25 x 25 x 7mm fan for Raspberry Pi 4B - 2.54mm female connector
Fanpowered by5Vwith dimensions25 x 25 x 7 mm. It is designed to be mounted inMaticBoxenclosures together withRaspberry Pi 4B. It has twoleadsterminated with 2-pin BLS female connector. Length ofcablewith connector is about26 cm. Using fan allows to significantlyreducethe temperature of the module inside the casing. Screws and nuts are not included but can be purchased separately.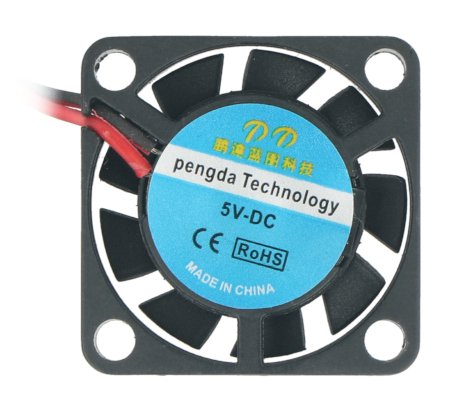 Fan 25 x 25 x 7mm for Raspberry Pi 4B enclosure - 2.54mm female connector.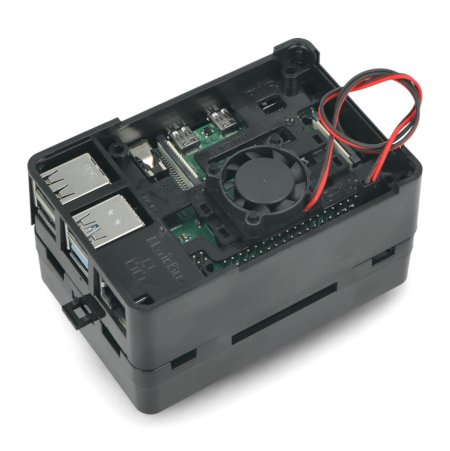 Fan connected toMaticBox enclosure. The enclosure andRaspberry Pi 4Bare not included, they can be purchased separately.
How to connect the fan to the MaticBox?
With a special overlay included in the set in housing MaticBox it is possible to mount a fan in a very simple and fast way. The overlay has 4 pins on which 25 x 25 mm fan mounting holes are placed. The MaticBox allows the installation of fans with a height from 5 mm to 10 mm. The overlay is placed in the housing with the help of snaps in the place visible on the attached picture.
How to choose the right fan for your electronics?
Find out more on our blog:
Fan specifications
Supply voltage: 5 V
Fan housing material: plastic
Fan housing color: black
Connector: 2-pin 2.54 mm female
Cable length: 260 mm (including connector)
Number of mounting holes: 4
Mounting holes diameter: 3 mm
Compatible withRaspberry Pi 4BandMaticBoxenclosures
CE certified and RoHS compliant
Fan dimensions: 25 x 25 x 7 mm