Product description: Raspberry Pi Zero W All in One kit
The kit consists of minicomputer Raspberry Pi Zero 2 Was well as enclosure and a suitable power supply 5,1 V / 2,5 A. There are also included miniHDMI-HDMI adapter, microUSB - USB adapter and goldpin strips for soldering into GPIO connector. You can also add a memory card of your choice to the kit.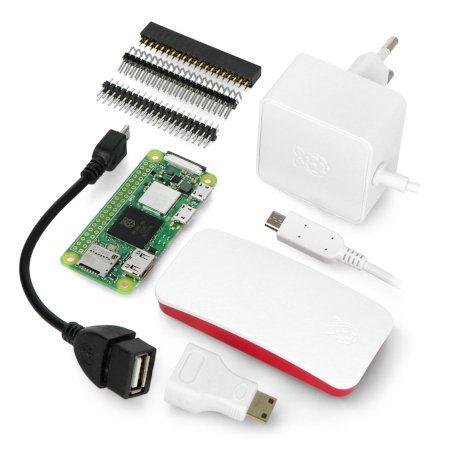 Raspberry Pi Zero All in One kit.
Kit contents
L.p.
Picture
Name
1
Raspberry Pi Zero 2 W - a miniature version of the popular minicomputer with Broadcom BCM2710A1 1 GHz quad-core processor and 512 MB RAM. The board features: WiFi, Bluetooth, miniHDMI port, microUSB OTG socket, 40 GPIOs and a microSD card slot.
2
Case for Raspberry Pi Zero - gives access to both audio, video, microSD card power and GPIO connectors. It also comes with a mini adapter for connecting a camera.
3
Raspberry Pi power supply - 5.1V with 2.5A current capacity with microUSB connector.
4
MicroUSB-USB adapter - allows you to connect USB devices to the mini-computer.
5

MiniHDMI-HDMI adapter - makes it easy to connect a monitor to the minicomputer.
6

GPIO pin set - three strips for soldering Raspberry Pi GPIO ports on your own.

male straight 2x40
male angular 2x40
female 2x40

MicroSD memory card with NOOBs system - additional option, by default kit is sent without card. To add a memory card to the set, please select the appropriate option under the product price. Capacity and class can be selected from the list.
Raspberry Pi Zero 2 W
The popular Raspberry Pi minicomputer in a miniature version. The Zero 2 W is based on a Broadcom BCM2710A1 1 GHz quad-core processor and 512 MB of RAM. The board is equipped with: WiFi, Bluetooth BLE, miniHDMI port, microUSB OTG socket, 40 GPIO, microSD card connectors. The dimensions of the board are: 65 x 30 x 5 mm.
Raspberry Pi Zero 2 W is one of the smallest minicomputers available on the market. This version is equipped with quad-core processor known from 3B version.
Powerful microUSB power supply
A dedicated 2.5A power supply is included, it guarantees proper operation of Raspberry Pi Zero 2 W minicomputer.
Operating system
Raspberry's drive is a microSD memory card. The operating system can be uploaded using a computer with a reader. The manufacturer has prepared an installer which makes uploading the system to the memory card much easier.
The set does not include a memory card, but you can add one of the fast and proven by us memory cards using the menu above the product description.
Adapters
Due to its small size, Raspberry's multimedia connectors had to be miniaturized, too. Taking into account that Raspberry Pi Zero W uses less popular miniHDMI and microUSB OTG connectors we also included appropriate adapters: miniHDMI - HDMI and microUSB - USB.
GPIO connectors
The smallest Raspberry Pi also does not have GPIO connectors soldered on. In our kit we offer three types to solder on yourself:
2x40 straight male socket
2x40 angled male socket
straight female socket 2x40
Multifunctional

casing for Raspberry Pi Zero

Official case for Raspberry Pi Zero and Zero W version minicomputer with external dimensions 78 x 37 x 15 mm. Features configurable components, also includes anti-slip feet and camera adapter.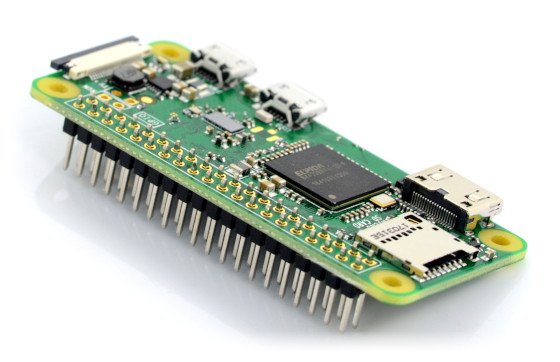 Goldpins for self-soldering. They make it easier to use Raspberry Pi Zero.
Raspberry Pi Zero specification and comparison
Basic Information
Model
Raspberry Pi Zero W
Raspberry Pi Zero 2 W
Technical Specification
Chip
Broadcom BCM2835
Broadcom BCM2710A1
Processor
ARM11 Single-Core
ARM Cortex-A53 Quad-Core
Operating Systems
Linux Raspberry Pi OS
Clocking
1.0 GHz
1.0 GHz (can be overclocked to 1.2 GHz)
RAM
512 MB DDR2 RAM @ 400 MHz PoP
512 MB DDR2 wire-bond
Memory
microSD card
GPIO socket
40-pin connector (2x20 pin)
2.54 mm pitch for self-soldering
Power supply
5 V / 1.2 A
via microUSB
5 V / 2,5 A
via microUSB
Board dimensions
65 x 30 x 5 mm
Interfaces
USB interface
microUSB OTG
Network interface
-
WiFi interface
802.11 b/g/n 150 Mbps
Bluetooth
Low Energy, BLE 4.1
Low Energy, BLE 4.2
Camera
CSI slot
Touch screen display
-
Video
miniHDMI
H.264 1080p30
OpenGLES 1.1, 2.0
Communications
UART, SPI, I2C, GPIO