Description: Filament Fiberlogy Easy PETG 1.75 mm 0.85 kg - Gray
PETG filament ingreyin the form of a wire wound on a spool. The diameter of the material is 1.75mmand the net weight 0.85 kg. The material is resistant to acids, salts and alkaline substances. The product is hermetically packed with a moisture absorber. The diameter of the mounting hole is 52 mm. Presented product is compatible with all3D printersworking in FFF / FDM technology, which do not have built-in protection against the use of materials produced by external suppliers. The product requires the use of a heated table. The manufacturer recommends optional cooling of printouts.
For each material in our offerweoffer ready-madeprofiles for the Cura program,which allow you to use the filament immediately and without any configuration. For this purpose we import a file dedicated to a specific model.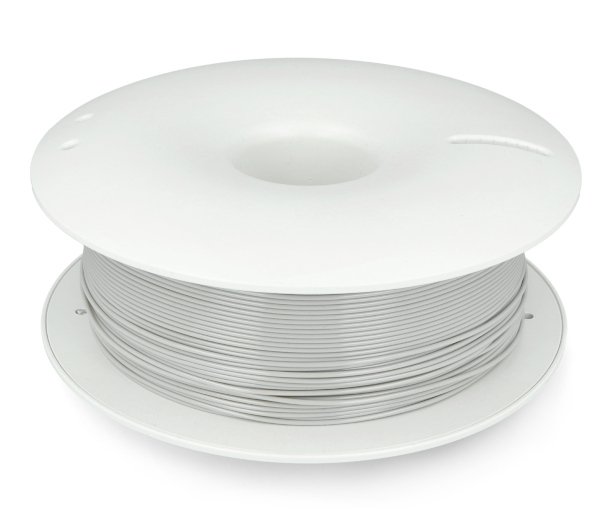 Filament Fiberlogy Easy PETG 1.75 mm 0.85 kg - Gray.
Features of the PETG filament
PETGmaterial is characterized by high resistance to abrasion, thanks to which it is used, among others, for production of various types of handles.PETG filamentis flexible,durable, resistant to acids, salts and alkaline substances.The cartridge can be easily used by novice 3D printer users and professionals. The correct head and table temperature should be determined when making proofs.
Suggested print parameters for filament printing
| | |
| --- | --- |
| Printing temperature | From 230°C to 250°C |
| Table temperature | 90°C |
| Cooling the printout | Recommended |
Due to design differences between printers, the above data should be treated as a guide and the corresponding values should be determined experimentally.
Technical specifications and physical properties of the pillar
Parameter
Scope
Diameter of pillar
1.75 mm
Dimensional tolerances of the philanthropy
+/- 0,02 mm
Colour
Grey
Printing temperature
From 230°C to 250°C
Table temperature
90°C
Spool - material
Easy PETG
Reel diameter
200 mm
Reel width
80 mm
Mounting hole diameter
52 mm
Moisture absorber
Yes
Vacuum packing
Yes
Roundness
+/- 0.01 mm
Packaging dimensions
205 x 205 x 90 mm
Net weight
0.85 kg