Product description: Set with Raspberry Pi 4B WiFi 4 GB RAM + accessories - two fan chassis
JustPi set consisting of a minicomputerRaspberry Pi 4Bwith 4 GB of RAM, a5-voltpower supply with a3 Acurrent capacity with aC-type USBplug, andan aluminumcase withtwo fans. It also includes such accessories as: microHDMI - HDMI cable, 32 GBmemory cardwith NOOBs installer and Ethernet network cable.
-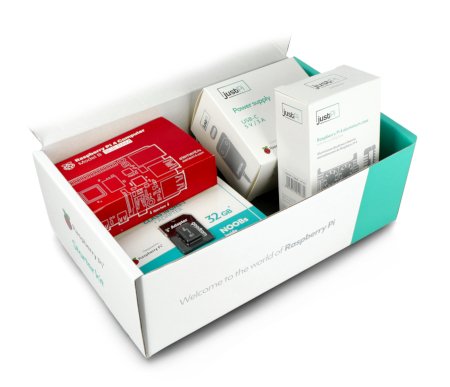 The video presents the capabilities of the latest Raspberry Pi 4B minicomputer.
What is the Raspberry Pi 4B minicomputer?
This is the latest version of the popular RaspberryPi4B. This model stands out:
high-performance Broadcom BCM2711 processor- quad-core 64-bit ARM-8 Cortex-A72 1.5 GHz
two microHDMI connectors- allow to connect two monitors
Two USB 3.0 and 2 USB 2.0 connectors- provide faster data transfer speeds from USB media than in the previous version
USB power connector C- allows for current flow up to 3.0 A
dual band WiFi- 2.4 GHz and 5 GHz, Bluetooth 5 / BLE
Ethernet port up to 1000 Mbpswith PoE capability
The rest of the specification is compatible with the earlier 3 B+ model, i.e. four USB, 40 GPIO, microSD card, DSI and CSI connectors and four mounting holes.
Why choose a set from an official distributor?
Raspberry Pi 4 minicomputer requires a power supply with appropriate parameters for proper operation: output voltage over 5 V and current capacity min. 3,0 A.The set includes a proven power supply, which allows for stable operation of the minicomputerat full load. Thanks to a specially selected casing, the raspberry will avoid potential physical damage and will be effectively cooled by two fans. Theincluded 32 GB memory card allows you to install the operating systemimmediately after inserting and connecting the mini computer to the Internet with a cable. Included accessories such as microHDMI cables allow you to connect the Raspbery Pi to any monitor with HDMI socket.
3D photo of the starterkit - use the navigation buttons to rotate or zoom the image.
Specification and comparison of Raspberry Pi 3B+ and 4B 4GB RAM
Basic information
Model
Raspberry Pi 3 model B+
Raspberry Pi 4
Edition
3 - 2018 r.
6 - 2019 r.
Technical specification
Chipset processor
Broadcom BCM2837B0 64-bit
Broadcom BCM2711 64-bit
Core
Quad-Core ARM Cortex-A53
Quad-Core ARM Cortex-A72
Operating systems

Linux Raspbian

Windows 10 loT

Linux Raspbian

Windows 10 loT

Clocking
1.4 GHz
1.5 GHz
Architecture
ARMv8-A
ARMv8-A
Memory RAM
1 GB LPDDR2 @ 900 MHz
4 GB LPDDR4
Memory
microSD card
microSD card
GPIO socket

40-pin connector (2x20 pin)

raster 2.54 mm

40-pin connector (2x20 pin)

raster 2.54 mm

Power supply

5.0 V / 2.5 A
via microUSB

5 V by GPIO
PoE with
additional overlay

5 V by GPIO
PoE by means of
additional overlay

Dimensions of the tiles
85 x 56 x 17 mm
85 x 56 x 17 mm
Interfaces
USB interface
4x USB 2.0 - socket type A

2x USB 2.0 - socket type A

2x USB 3.0 - socket type A

Network interface
300 Mbps Ethernet port
Ethernet port 100/1000 Mbps
WiFi interface

Dual Band 2.4 GHz and 5 GHz

802.11 b/g/n/ac

Dual Band 2.4 GHz and 5 GHz

802.11 b/g/n/ac

Bluetooth
Low Energy, BLE 4.2
Low Energy, BLE 5
Camera
CSI socket
CSI socket
Touchscreen display
DSI socket
DSI socket
Video

HDMI HD 1080px / 30 fps

H.264 1080p30

OpenGLES 1.1, 2.0

2 x microHDMI

H.265 4K 60 fps

H.264 1080p 30 fps

OpenGLES 1.1, 2.0, 3.0

Communication
UART, SLEEPING, I2C, GPIO
UART, SLEEPING, I2C, GPIO