Specification of the Pololu HP 1000 motor: 1
| | |
| --- | --- |
| Supply voltage: | 3 May - 9 May |
| No-load current (6V): | 70 mA |
| Current with the shaft stopped (6 V): | 1600 mA |
| No load speed (6V): | 32 rpm |
| Torque (6V): | 9.0 kg * cm (0.882 Nm) |
| Gear ratio: | 1000: 1 |
| Shaft Diameter: | 3 mm |
| Body dimensions: | 29.5 x 10 x 12 mm |
| Mass: | 10 g |
| Double-sided shaft: | NO |
Attention!
The specified torque (9.0 kg * cm) is the theoretical value that a 1000: 1 HP motor can achieve. In practice, stopping the engine may damage the transmission.
Product Description: Pololu HP 1000 Motor: 1
Small, light and powerful Pololu engines are used by robot constructors as drive units. Devices can be supplied with voltages up to 9 V, and useful power over 3 V. The optimal voltage with the best power to endurance ratio is 6 V.
Engine dimensions
The motor body is a cuboid with dimensions of 29.5 x 10 x 12 mm. The gearbox is 9.27 mm long. There is a 3mm D-shaped shaft at the exit. The total weight is approximately 10g.
Accessories
We offer a number of accessories that work with Pololu micro motors: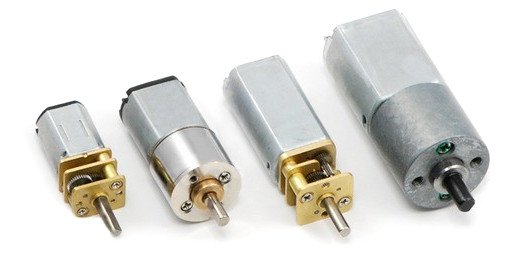 The store also offers many otherengines.