Product description: Motor MP 5:1 6 V double-sided shaft - Polol 2376
Polol's small, lightweight yet powerful engines are used as drive units by robot constructors. The units can be supplied with voltage up to 9 V, the useful power is above 3 V. The optimum voltage at which the power to strength ratio is best is 6 V. This version has an extended shaft with a length of 4.5 mm, allowing the installation of speed sensors - encoders.
Motor dimensions:
The motor body is a 26 x 10 x 12 mm cuboid. The gearbox is 9.27 mm long. There is a 3 mm D-shaped shaft at the output. Total weight is about 10 g.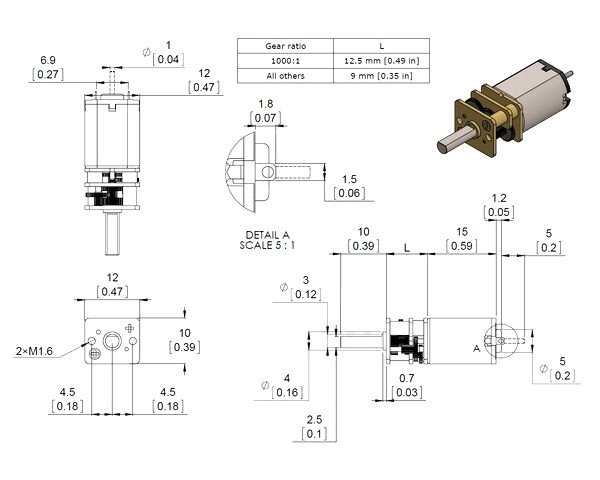 The drawing shows the dimensions of the Polol micro motor with gearbox.
Accessories
We offer a range of accessories that work with Polol's micro motors:
Wheels, crawlers, hubs,Encoders
Our offer also includes wheelsand tracks,matched to themicro engine shafts of Polol. There is also a special version of wheels with speed measuring encoders available. Installation of non-standard wheels is facilitated by adapters.
Engine drivers
Direction and speed control are provided by DC motor controllers. In our offer there are bothintegratedcircuitsforself-soldering and ready to connect, cooperating with sets (e.g. Arduino) modules.
Video
Film from the final driveThe winnerThe construction called Impact at the Robot Tournament
T-BOT 2013. Our robot has Polol HP micro motors with 10:1 transmission.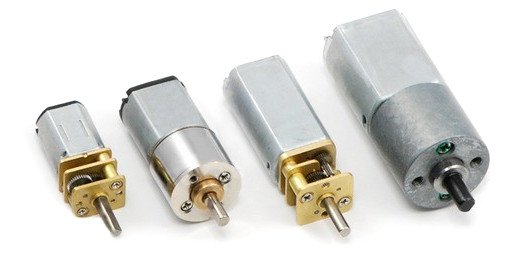 There are also many otherenginesin the shop's offer.
Engine specifications
| | |
| --- | --- |
| Power supply voltage: | 3 V - 9 V |
| Unloaded current (6 V): | 40 mA |
| Current at stopped shaft (6 V): | 700 mA |
| Speed without load (6 V): | 4400 rpm |
| Torque (6 V): | 0.1 kg*cm (0.01 Nm) |
| Gear ratio: | 4,995:1 |
| Shaft diameter: | 3 mm |
| Body dimensions: | 26 x 10 x 12 mm |
| The weight: | 9,5 g |
| Two-sided shaft: | YES |