Product description: HP 30:1 motor double shaft - Pololu 2212
Pololu's small, lightweight yet powerful motors are used by robot builders as drive units. The units can be supplied with power up to 9 V, and gain their useful power above 3 V. The optimum voltage, at which the power to strength ratio is most favourable, is 6 V. This version has an extended shaft length of 4.5 mm for mounting speed sensors - encoders.
Dimensions of the HP 30:1 motor
The motor body is a cuboid with dimensions of 24 x 10 x 12 mm. The gearbox is 9.27 mm long. There is a 3 mm D-shaped shaft at the output. The total mass is about 10 g.

Accessories for the HP 30:1 motor
We offer a range of accessories that work with Pololu micro motors:
Our offer also includes wheels and tracks matched to Pololu's micro engine shafts. There is also available a special version of wheels equipped with speed measuring - encoders. Installation of untypical wheels is facilitated by adapters.


Control of direction and rotational speed is possible with DC motor drivers. In our offer you can find both integrated circuits for individual soldering and ready to connect, cooperating with sets (eg. Arduino) modules.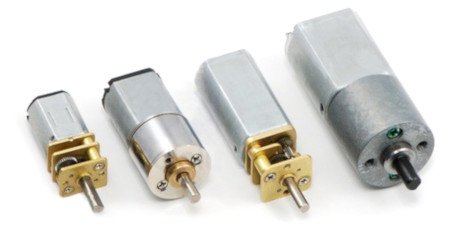 The shop also offers many other motors.
Video from the final run of the winning Impact design at the T-BOT 2013 robot tournament. Our robot is equipped with Pololu HP micro motors with 10:1 gearing.
Pololu HP 30:1 motor specifications
| | |
| --- | --- |
| Supply voltage: | 3 V to 9 V |
| No-load current (6 V): | 70 mA |
| Current at stopped shaft (6 V): | 1600 mA |
| No-load speed (6 V): | 1000 rpm |
| Torque (6 V): | 0.57 kg*cm (0.056 Nm) |
| Gear ratio: | 30:1 |
| Shaft diameter: | 3 mm |
| Body dimensions: | 26 x 10 x 12 mm |
| Weight: | 9,5 g |
| Double-sided shaft: | YES |