Product description: Gravity - pH analog acidity sensor with sharp tip - kit - DFRobot SEN0249
The analog acidity sensor allows you to measure pH values from 0 pH to 10 pH of moist soil or food. The stainless steel probe with a sharpened tip can be easily inserted into soil or food such as fruit, meat, vegetables to check their suitability for consumption. For example, by measuring the pH of meat, you can tell if it is fresh or not. Also included is a signal converter with Gravity and BNC connectors for connecting the probe, communicating through an analog interface and powered by 5 volts.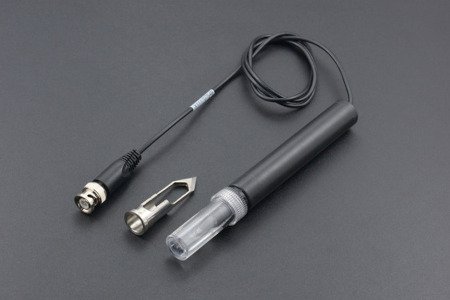 Measuring probe of the pH sensor.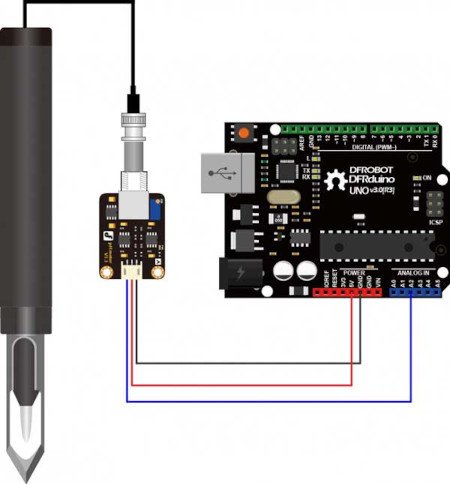 Example of connecting the sensor with Arduino. Arduino module can be purchased separately.
Notes on the acidity sensor
It is prohibited to measure very hard and medium hard samples.
Keep the probe connector (BCN connector) clean and protected from moisture.
The pH probe is a laboratory electrode and is not designed for long-term measurements.
After the measurement is completed, the probe should be thoroughly, carefully cleaned.
The probe components that come in contact with the object are made of ABS, glass, and silicone. Before measurement, check that the objects are not harmful to these materials.
Not suitable for measuring: oily samples, samples with increased viscosity, samples with more fine particles.
Not suitable for titration in non-aqueous media.
The probe is terminated with a sharp plug.
Connections for pH sensor
The set consists of a laboratory probe and a converter. The converter is powered by 5 V and is equipped with a BNC connector for connecting the probe and a Gravity connector for communication through the analog interface.
A: analog output signal (from 0 V to 4 V)
+: 5 V supply voltage
-: system ground
BNC: connector to connect the pH probe
Specification of pH acidity sensor
Probe:

measuring range: from 0 pH to 10 pH
accuracy: ± 0.1 pH
operating temperature: from 5°C to 60°C
response time: ≤ 2 min
electrolytic key material (salt bridge): Poly Tetra Fluoro Ethylene (PTFE)
coating material: Polyoxymethylene (POM)
filling solution: cannot be filled
connection: BNC
cable length: 850 mm (with BNC connector)

Signal converter:

input voltage: 5 V
output signal: 0 V to 4 V
measuring accuracy ± 0.2 pH (25°C)
probe connector: BNC
module connector: Gravity PH2.0-3Pin
dimensions: 43 x 32 mm