Product description: DFRobot Gravity - analog sensor of water salinity - DFR0300
The device allows to measure the salinity of water by studying the reverse of resistance which is the conductance. If the salt level is too high, it can lead to plant death, and if too low, it may indicate a lack of nutrients. Conductivity of water can reflect the level of electrolytes in it. Depending on their concentration, the conductivity of the water solution differs.
Wiring diagram
The device was designed for controllers of Arduino, it has built-in simple and handy functions. The sensor connection is easyy through the Gravity connector.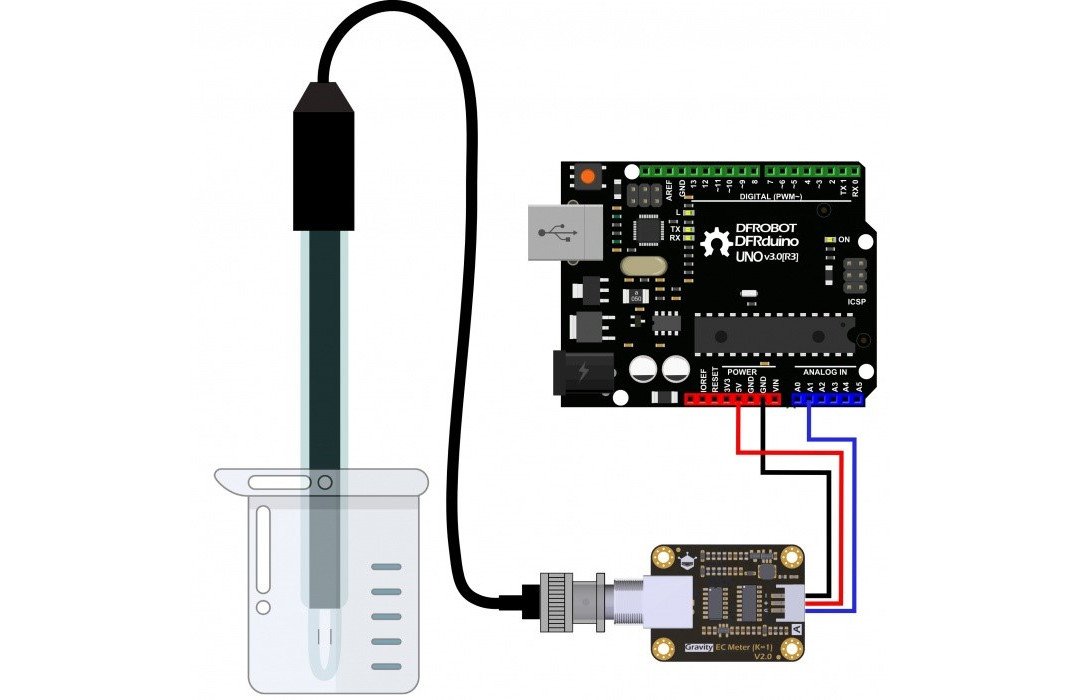 Connection diagram with Arduino.
 It is strongly recommended to add a temperature sensor DS18B20 probe.
Application
The water quality monitoring
Aquaculture
Hydroponie and aqaponie
Specification of Analog Electrical Conductivity Sensor
Working voltage: 5 V
Measuring range: from 1 ms/cm - 20 ms/cm
Accuracy: up to 

±10% F. S (using Arduino 10 bits ADC)

Interface: Gravity

The conductivity electrode: constant of electrodes K = 1, BNC connector

Operating temperature: 5℃ to 40

℃

Cable length: about 60 cm

Temperature sensor: DS18B20

Board sizes: 45 x 32 mm
Set includes
1x conductivity electrode - BNC connector
1x board of the circuit of the meter
1x analog cable
1x DS18B20 temperature sensor - waterproof
1x adapter of the terminal of the sensor
1x digital cable 
1x conductivity solution

(1413 us/cm and 12.88 ms/cm)