Description: Gravity - sensor 9DOF BMX160 + temperature and pressure sensor BMP388 - I2C - DFRobot SEN0252.
The module is equipped with two BMX160and BMP388sensors. BMX160 is a 9-axis sensor which allows to measure the acceleration in the ranges ± 2 g / ± 4 g / ± 8 g / ± 16 g and the angular position (gyroscope) in the ranges from 125°/s to 2000°, while BMP388 is responsible for measuring temperature from 0°C to 65°C and atmospheric pressure from 300 hPa to 1250 hPa.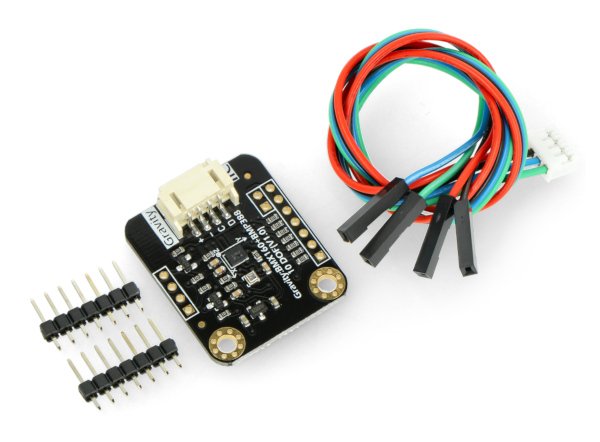 Module with sensors BMX160 and BMP388 - Grove cable and goldpin strips are also included.
The board is equipped with a Gravity connector, which makes it possible to connect it to the base plate in an easy way. Current demand is less than 1.5 mA. The module with this combination of sensors will be used in dronesandapplications for height, position and orientation measurement.
Module outputs
The module is equipped with a Gravity connector. For communication with the base board it uses the I2C interface.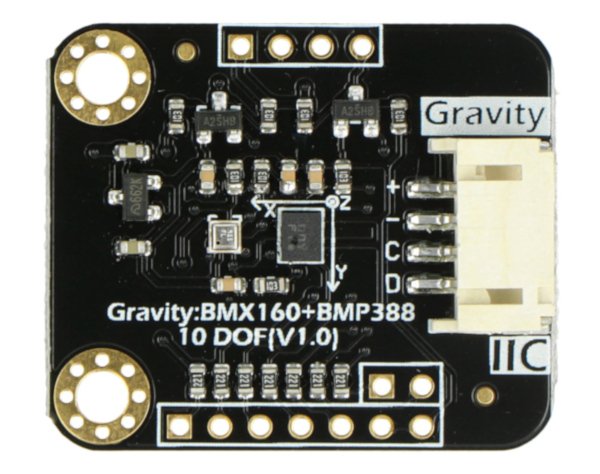 | Pin | Description |
| --- | --- |
| VCC / + | Supply voltage 5 V. |
| GND / - | The weight of the system. |
| SCL / C | I2C bus clock line. |
| SDA / D | I2C bus data line. |
| 3V3 | Power supply 3.3 V. |
| ADDR(BMP388) | Select I2C address for BMP388. |
| ADDR(BMX160) | Select I2C address for BMX160. |
| CSB2 | Pin selection of BMX160 protocol. |
| INIT2 | External interrupt 1 for BMX160. |
| INIT3 | External interruption 2 for BMX160. |
| CSB1 | Pin selector of BMP388 protocol. |
| INIT1 | External interruption for BMP388. |
Main module features
Low power consumption
High measuring accuracy
Small in size
Measurement of acceleration
Angle position measurement
Pressure and temperature measurement
Sensor module specification
Supply voltage 5 V or 3.3 V
Communication: I2C
BMX160 sensor

accelerometer: ± 2

g / ± 4 g / ± 8 g / ± 16 g

Gyroscope: 125°/sec to 2000°/sec

Geomagnetic sensor: ± 1150

uT (x-,y axis); ± 2500 uT (z axis)

resolution: 0.3 uT

Sensor BMP388

pressure: 300 hPa to 1250 hPa
Relative pressure measurement accuracy: ± 0

.08 hPa (at ± 0.66m height, 700-900hPa and 25℃-40℃)

absolute pressure measurement accuracy: ± 0.5 hPa (at 0℃-65℃ and

300-1100hPa)

temperature: from 0°C to 65°C

temperature measurement accuracy: ± 0

.5℃

Operating temperature: -40°C to 80°C

Dimensions: 32 x 27 mm