Description
Camera module with sensor Sony IMX219 equipped with a lens HX-27227 M12x0.5, with the following parameters: focal length 4.0 mm, angle 93 °, aperture of 1.4, the 1/2,5 format. It is connected to a special connector of minicomputer Raspberry Pi, version 3, 2, B+, A+, Zero, Zero W. The device has a matrix with a resolution of 8 Mpx, supports mode HD 1080 px / 30 fps.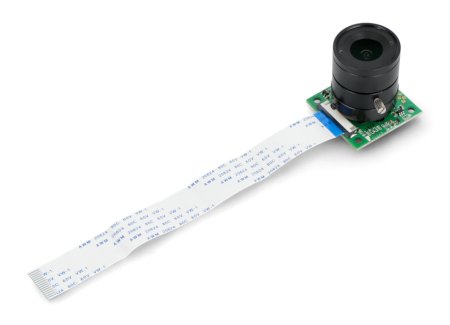 The camera is compatible with the original device forthe Raspberry Pi, it can be connected to a special CSI connector and enable it in the settings of the operating system.
Specification
Camera compatible withRaspberry Pi version 3, 2, B+, A+, Zero, Zero W
Matrix: 8 MPx
Sensor:

Sony IMX219

(documentation)
Resolution: 3280 x 2464 px
Video: up to 1080p, 30 fps
Lens mounting: CS mount or M12x0.5
Lens: HX-27227 (documentation)


Focal length: 4.0 mm
Aperture: 1,4
Viewing angle: diagonal: 93 ° 
Format: 1/2,5 "

It has 4 mounting holes
The board module's sizes: 36 x 36 mm
Included
Camera Sony IMX219 8 MPx with lens 

LS-2718

Tape to connect to the Raspberry Pi
Video
A video showing how to connect the camera to minicomputer.