Product description: Tinycontrol GSMKON-040 - GSM controller V4.2 - digital I/O / 1-wire / I2C
A small GSM controller configured via a website, similar to aLANcontroller.For proper operation, aSIM cardmust be inserted in the device.The configuration page usesMQTT protocol to communicate with the device. If the SIM card does not allow access to the Internet, we will inform you in the installation procedure how to change the device settings viaSMS.GSM controller is equipped with 1-wire and I2C digital inputs, analogue inputs, serial bus, logical inputs and relay. The device is poweredfrom 5 V to 55 V.
GSM controller V4.2.
Operating modes of the GSM controller
Control by making a voice call from an authorized number (the controller will switch on the controller and e.g. open the gate)
Control and receipt of information via SMS
Controlling and receiving data by the server via MQTT
Locally using the conditions set on the device, e.g. to switch on the output depending on the sensor reading
The GSM controller can work inall modessimultaneously.
Control of Tinycontrol devices
Manufacturer provides its proprietary solution mqtt.ats.pl, which allows you to easily configure a GSM controller, and has a package of services complementing the functionality of Tinycontrol devices based on the MQTT protocol. The service offers such functions as:
Collecting data from devices and presenting them on a chart or table
Defining relationships between sensors and devices
Setting the work schedule
View and control data from supported devices using a website or mobile application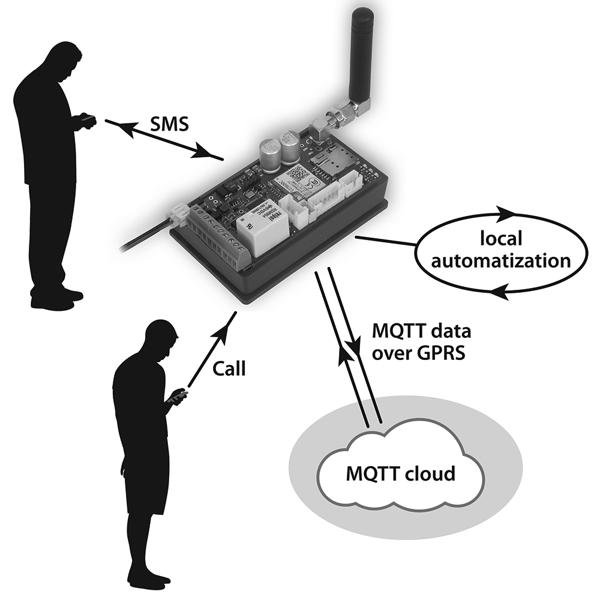 GSM controller control.
Specification of the GSM controller
Supply voltage: 5 V to 55 V
Power consumption: 0.2 W (temporary 5 W)
Relay: 125 VAC / 3 A
Antenna: SMA connector
SIM card: nano SIM
I/O:

2 analogue inputs: 0 to 5 V and 0 V to 33 V, for voltage, DC, temperature sensors, photoresistors, pressure sensors and much more
1-Wire digital input - up to 8 DS18B20 probes
I2C digital input
UART 3.3 V serial bus
2 logical inputs
1 relay (NO, C, NC)
measuring supply voltage and temperature on the board

Configuration via website
Handling of commands and SMS notifications
Change of output status by making a call from an authorized number
Support for up to 100 numbers authorised for ringing functions
Support for HTTP (GET) and MQTT communication protocols
Operating temperature range: -20°C to 55°C
Dimensions: 69 x 40 x 29 mm (without DIN base and antenna)
Weight: 56 g
The set includes
GSM controller in a housing
DIN mounting base
Omnidirectional antenna, 2 dB gain
30 cm power cable with a 2 mm plug
Brief instruction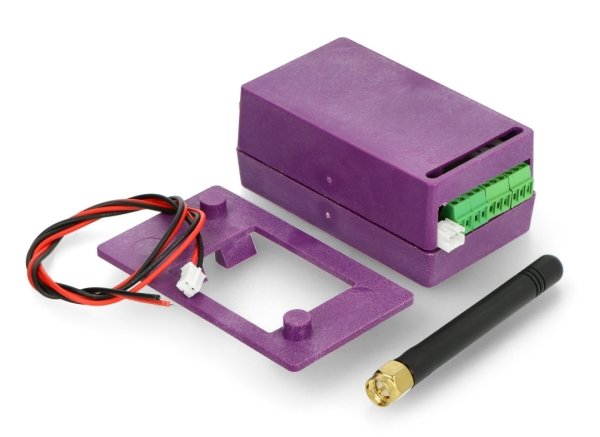 Content of the GSM controller set.