Description of DFRduino Leonardo + module GSM/GPRS/GPS SIM808 - compatible with Arduino
Board is a combination ofLeonardo with SIM808 GSM, GPRS and GPSmodule. It has a connector for microphone and speakers. Built-in system of a Lipol battery charger allows you to use the devices in portable projects. Applied sleep function saves energy. The module is ideal for a variety ofIoT projects (Internet of Things).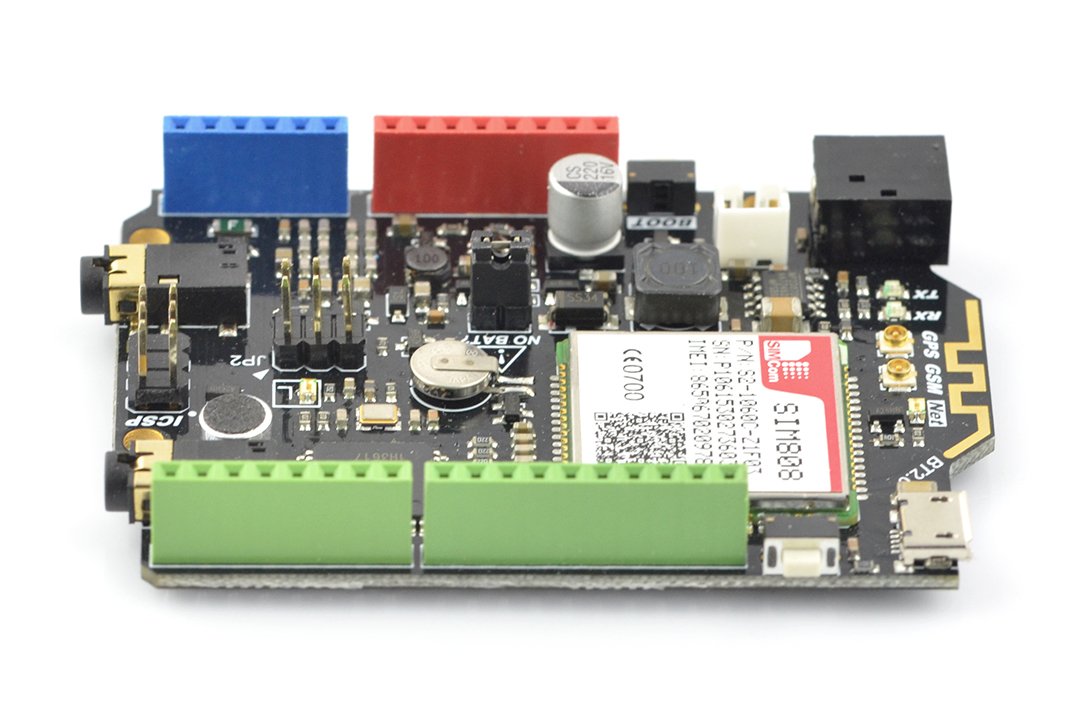 Board is compatible with popular Arduino Leonardo.
Module GSM / GPRS / GPS SIM808
System that allows you to send text messages, to create connections in a GSM network, totransfer GPRS data and to read GPS position. Communication via serial UART interface(RX, TX) using the AT command. Board includes, i.a. a connector for SIM card, slot for microphone, and speaker.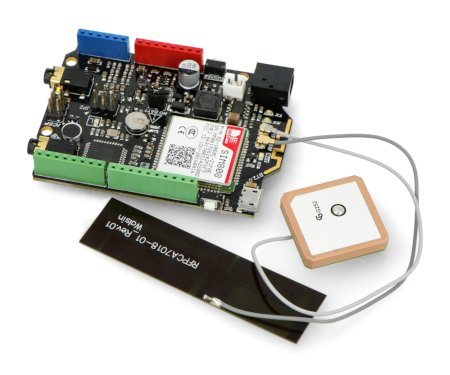 Included is also GPS and GSM antenna.
Compatible with Arduino
Board is compatible with popular moduleArduino Leonardo. The board contains an ATmega32u4 microcontroller, equipped with 20 digital inputs/outputs, 7 of which can be used as PWM outputs (e.g. to control engines) and 12 as analog inputs. The system works with the clock signal with the frequency of 16 MHz. The module also has a microUSB connector, DC power socket, RESET button, and leads that serve to connect the AVR programmer.
Programming
Creating and installing software is allowed by the free environment Arduino IDE. Implemented bootloader allows you to send the program directly viathe microUSB cable. ISCP connector enables connectionof AVR programmer.
In order to start DFRduino, it is necessary to connect the system to computer using microUSB cable and choose inthe Arduino IDE, the Arduino Leonardo board.
Specification: DFRduino Leonardo + module GSM/GPRS/GPS SIM808 - compatible with Arduino
Power supply:
Working voltage of leads: 5 V
Embedded microcontroller: ATmega32u4(known fromArduino Leonardo):

Flash memory: 32 KB
SRAM: 2.5 KB
EEPROM: 1 KB
Timing: 16 MHz
Digital I/Os: 20
PWM channels: 7
Analog inputs: 12

The wireless module: SIM808 GSM/GPRS/GPS

Range: 850 / 900 / 1800 / 1900 MHz
GPRS, class 12/10
GPRS mobile station, class B
GPS accuracy: up to 2.5 m
Cold start: 30 s
Warm start: 28 s
Hot start: 1s
Support of AT commands

Module dimensions: 73 x 54 mm
Weight: 50 g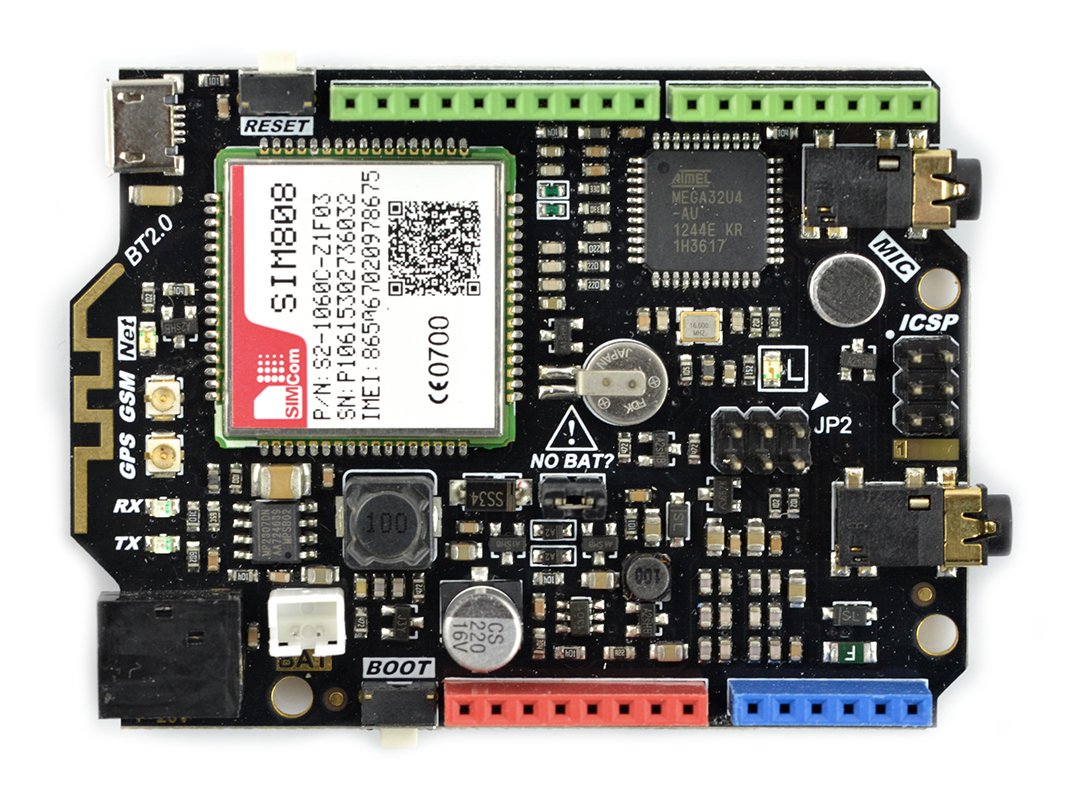 Leonardo and GSM SIM808 module- top view.
Set includes:
The main module
GSM/GPRS antenna 
GPS antenna