Product description: BleBox wind&rainSensor - wind and rain sensor WiFi
This attachment allows you to connectwindand rain sensors. With its help it is possible to remotely monitor measurements from sensors viaWiFinetwork. Free application for mobile deviceswBoxalso allows to create actions which are to be performed by otherBleBox devicesdepending on sensors measurement. The device is enclosed in a housing withIP54protection rating, which allows it to be placed in a place exposed to weather conditions.
Main features of sensor
Possibility to connect wind and rain sensor, to have access to information about current weather conditions.
Allows sending commands to BleBox controllers based on readings from sensors
Up to 30 actions can be set.
Sensors to be purchased separately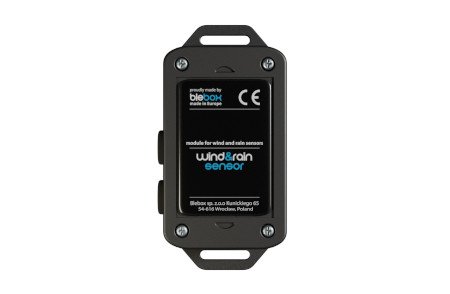 BleBox wind & rain sensor add-on.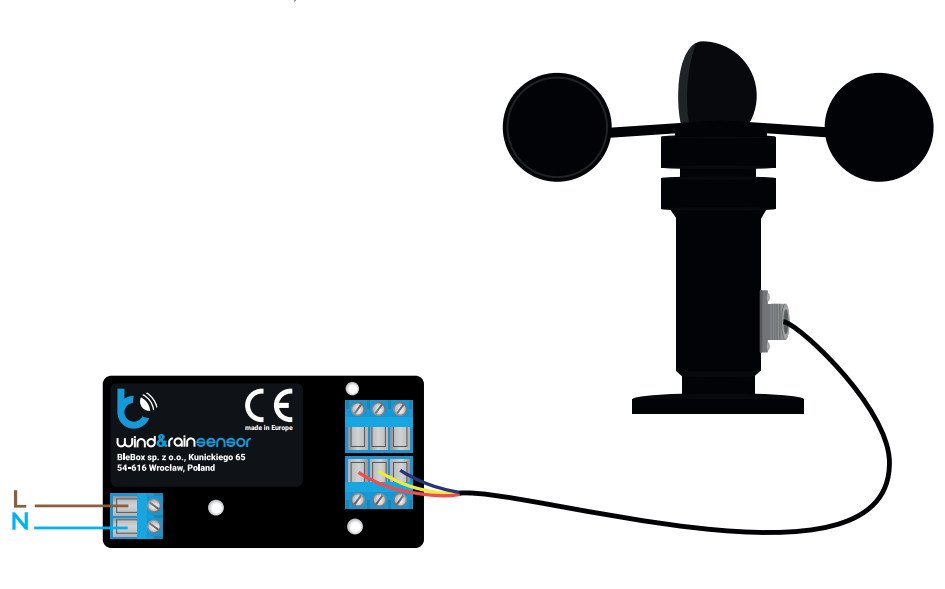 Wiring diagram of module.
BleBox wind&rainSensor wiring diagram
Before installing the device, remember to disconnect the power supply in the circuit by switching off the appropriate fuse or removing the power cord from the outlet. The controller should be mounted in a place protected against accidental damage. The device has been equipped with screw connectors, which enable secure and simple assembly of wires.
The sensor should be connected according to the diagram.
L -supply voltage, phase line.
N- supply voltage, neutral line.
What is an intelligent building?
Intelligent buildingor smart home (also called Smart Home) is equipped with various sensors, detectors and controllers and usually one integrated management system, often in the form of control panel. BleBox devices do not require a control panel. They communicate with a WiFi network by using their own, proprietary µWiFi solution and free wBox application. With information from various elements of the system, the building can react to changes in the environment through sensor readings, which leads to maximising functionality, comfort and safety.
BleBox wind&rainSensor specification
Supply voltage
230 VAC
Energy consumption
up to 1 W
Number of inputs
2
Type of control inputs
for connection of a wind or rain sensor
Housing
made of plastic, flooded with polyurethane composition, halogen-free, self-extinguishing, thermal class B (130°C)
Degree of protection
IP54
Mounting method
two 18 x 3.5 mm oval mounting holes or self-adhesive element
Working temperature
from -20°C to 50°C
Transmission standard
µWiFi, compatible with WiFi 802.11g
Transmission
two-way, encrypted
Communication mode
WiFi direct connection (Acces Point), WiFi connection (router), connection from anywhere in the world (Internet)
Transmission frequency
2.4 GHz
API
open
Compatible devices
Apple iPhone, Apple iPad, iPad Mini, Android, computers supporting HTML5
Encryption
WPA2-PSK and authenticated encryption (AEAD)
Dimensions
50 x 92 x 28 mm