Description: Grove - IMU 10DOF v2.0 - 3-axis accelerometer, gyroscope, magnetometer and barometer - I2C.
The sensor is a combination ofa3-axisaccelerometer, gyroscope, magnetometerand baroscopic.The module includes theMPU9250andBMP280. It allows to measure acceleration, magnetic field, angular speed and pressure. It communicates through theI2Cinterface. It is powered from 3.3 V to 5 V.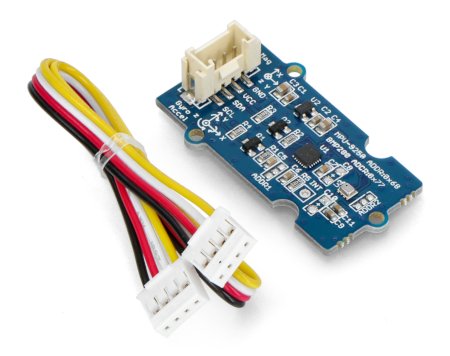 Sensor IMU 10DOF v2.0, Grove cable is also included.
Main features of the IMU module
Digital speed sensor output X, Y, Z (gyroscope) with a programmable range scale of ±250, ±500, ±1000

and ±2000°/s

.

Digital output of a 3 axis accelerometer with a programmable range scale of ±2 g, ±4 g, ±8 g and ±16 g.

Digital output of a magnetometer with full scale ±4800 uT.

Accuracy of temperature measurement: ±1°C.

Pressure measurement range: 300 hPa to 1100 hPa with ±1 hPa accuracy.
Arduino compatible product
The manufacturer providesa user guideshowing its connection and programming.
Connection of IMU 10DOF sensor
The IMU sensor module communicates via the I2C interface. It is equipped with Grove connector, for easier connection of the module with dedicated overlays for Arduino.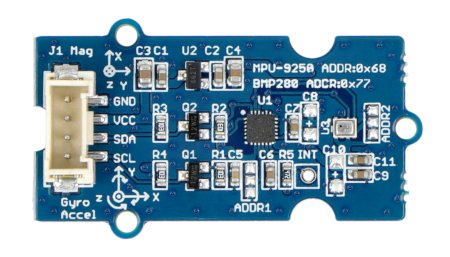 IMU 10DOF v2.0 sensor.
| Pin . | Description |
| --- | --- |
| GND | The weight of the system. |
| VCC | The supply voltage is 5 V. |
| SDA | I2C bus data line. |
| SCL | I2C bus clock line. |
Sensor specification IMU 10DOF v2.0
Supply voltage: 3.3 V to 5 V
Power consumption: 6 mA
Angular speed measurement range: programmable ±250, ±500, ±1000 and ±2000°/s
Acceleration measurement range: programmable ±2 g, ±4 g, ±8 g and ±16 g
Magnetic field measurement range: ±4800

uT

Pressure measurement range: 300 hPa to 1100 hPa

Temperature measurement range: -40° to 85°C
Communication: I2C
Speed of communication: 400 kHz
I2C address: 0x68 (default), 0x69 (optional)
Dimensions: 130 x 90 x 11 mm
Weight: 10 g