Product description: Natec electronic notebook for drawing 8.5" LED - lock function
Modern and energy-saving electronic notebook by Natec inblack. It has a bright8.5" LCDdisplay, is very light, net weight is only 120 g. It is powered by oneCR2016 battery(available in the kit). It is designed for making quick notes in your home, office or school. Thanks to it, you no longer need paper to save your shopping list or things to do. You can quickly and easily take an important note or leave a message for your family. It will also be great for your child during his or her studies. Solving mathematical tasks or other exercises will be great fun for your child. With Natec's notepad you save paper and thus take care of the environment.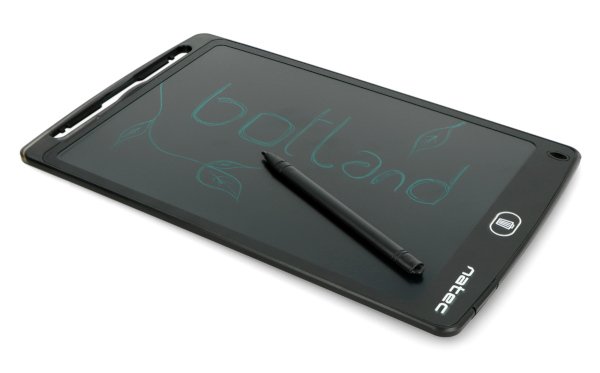 The Natec Snail electronic notebook for drawing 8.5" LEDs with a lock function.
Features of the notebook
Mobile
Lightweight
Environmentally friendly
Ideal for students, students to learn
Easy to use
It has a reset button lock function
Very sensitive to pressure.
Drawing in the Natec Snail notebook is very easy, you can use your own hands, but it is more convenient with thestylus, which is included in the set. The stylus resembles a pen or a pencil. The advanced technology of the device allows you to read many levels of pressure, which is properly reproduced on a high-quality display. This allows you to draw different line thicknesses, which makes you feel the same as when drawing on paper.
Content removal
The content of notes made on the Natec Snile notebook screen is removed very easily. Just press the "bin" button. You can start the next note or drawing right away.

Additionally, Natec Snail is equipped with a delete button lock if you want to keep the note. This will prevent the user from accidentally pressing the "basket" button and will keep the note safe as long as necessary.
Set contents:
Natec 8.5" LED drawing notebook

Stylus
Battery CR2016
Specification of the electronic notepad
Colour: black
Display: LCD, 8.5"
Power supply: 1 x batteryCR2016(supplied)
Includes a stylus for writing / drawing
Dimensions: 225 x 145 mm
Weight: 120 g