Attention!
The product has been discontinued. Check other products in category.
Description
Shield with e-paper 2.13" display with a resolution of 212 x 104 pixels. It communicates via the SPI interface with the FireBeetle. Thanks to the technology of e-paper, device does not tire the eyes as the traditional screens do. It can work with three colors: black, red, and white as the background. This kind of displays can be used for reading e-books and e-journals.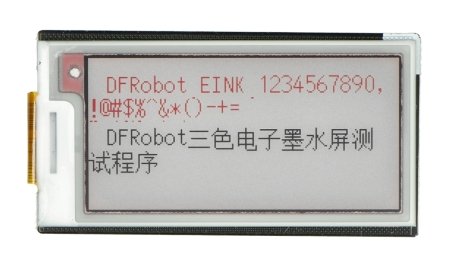 The product is compatible with FireBeetle ESP32 and FireBeetle ESP8266
The manufacturer provides auser manualfor the Firebeetle.
Specification
The module is compatible withFireBeetle ESP32andFireBeetle ESP8266(lack of compatibility with FireBeetle BLE4.1)
Supply voltage: 3.3 V
Current consumption: 12 mA
Font layout:

GT30L24A3W

Display layout:

GDEW0213Z16

Interface: SPI
Update time: from 12 sec to 15 sec
Displayed colors: black, white and red
External dimensions: 60 x 32 mm
Resolution:

212 x 104 pixels