Attention!
The product has been discontinued. Check others products in category.
Specification
Supply voltage: 3 V to 5 V
Current consumption: below 10 mA for 5 V
Built-in LED indicating the activation
Digital output signal:

High status: 3.9 V when 5 V supply - default
Low status: 0.1 V - after you press the button

Pins: the assembled goldpin connectors, 2.54 mm pitch
Has mounting holes
Dimensions:

23 x 23 x 5 mm
Description
Assembled system with touch-button with the controller. Thanks to the digital output signal SIG, the module can be connected directly to the pins of the microcontroller or the development kit, including Arduino. Supply voltage in the range from 3 V to 5 V, must be connected between VCC and GND pins.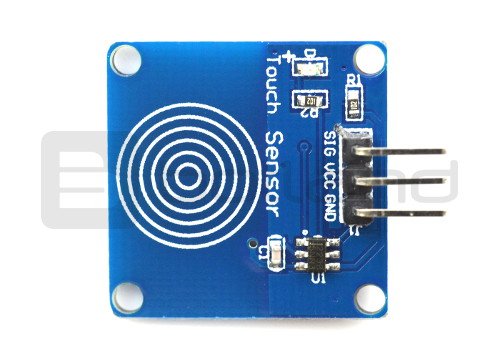 Pins are the popular goldpin connectors (2.54 mm pitch) for connecting the sensor via wires or to directly attach it to breadboard.
The product is compatible with Arduino