Product description: SparkFun Thing Plus - ESP32-S2 WROOM - SparkFun WRL-17743
The SparkFun ESP32-S2 WROOM Thing Plus module is a Feather sized board featuring 2.4 GHz WiFi communication. Additionally, it is equipped with a cryptographic chip which, unlike the standard ESP32 and ESP8266 chips, allows encryption of wireless communication for secure network traffic. The board is additionally equipped with a Li-Pol battery charger chip through the JST 2.0 connector, through which the module can also be powered from the battery. ESP32-S2 supports DVP camera interface, LCD interface and integrated temperature sensor. Additional Qwiic connector allows for connection of I2C devices. The Thing Plus module has 320 kB of SRAM and 128 kB of ROM, as well as 4 MB of SPI Flash embedded memory. There are 21 GPIO pins, a cryptographic chip, Qwiic connector, JST and USB C for programming and powering the board.
The manufacturer has prepared a user guide for the SparkFun Thing Plus module.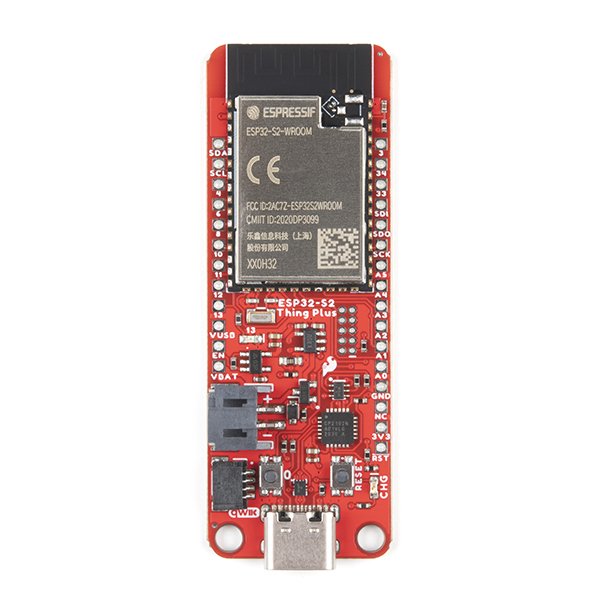 SparkFun Thing Plus ESP32-S2.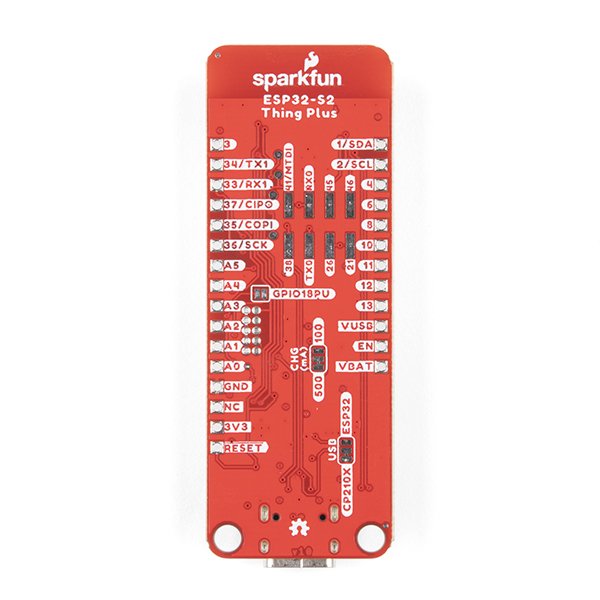 On the back of the Thing Plus board you can find a description of each pin.
SparkFun Thing Plus specifications
Chip: ESP32-S2

LX7 Xtensa single core microprocessor up to 240 MHz

RISC-V ULP coprocessor
128 kB ROM and 320 kB RAM
4 MB of embedded SPI flash memory

cryptographic hardware accelerators:

AES, ECB / CBC / OFB / CFB / CTR, GCM, SHA, RSA and ECC (digital signature)

physical security features:

transparent encryption of external flash memory and RAM (AES-XTS)
Secure Boot feature ensures that only signed firmware (with RSA-PSS signature) will boot
HMAC and Digital Signature modules use keys not available in software to generate SHA-MAC and MAC signatures

integrated 2.4 GHz WiFi 802.11 b / g / n transceiver module (up to 150 Mbps)
integrated temperature sensor: from -20°C to 110°C
operating voltage: from 3.0 V to 3.6 V

WiFi: 310 mA
sleep mode: 550 µA
deep sleep mode: 20 to 230 µA

21 GPIO pins:

16 x ADC channels 12-bit
2 x 8-bit DAC channels
14x capacitive touch detection
4 x SPI
1 x I2S
2 x I2C
2 x UART
8 x PWM channels

Li-Pol JST 2.0 battery connector
Qwiic connector
USB C connector
JTAG PTH pins
Dimensions: 64.7 x 22.8 mm