Description
Audio shield for DFRduino M0 with processor of sound WM8978 Wolfson. It is equipped with the core transmitting a signal in the HI-FI standard, it supports 3D ambient sound and 5 frequency bands to improve sound quality. It can filter the interference caused by noise. It has the function of recording MONO and two channels 3 W PA (Power Amplification) which are available without a serial port MP3. The board has two connectors jack 3,5 mm and a slot for microSD cards. The supply voltage is 5 V, maximum current is 2 A.
Attention!
The shield uses the IIC interface and is only compatible with DFRduino M0 and Bluno M0, itdoes not support standard Arduino modules.
Pins
Shield is only for modulesDFRduino M0 and BlunoM0, it communicates on the IIC interface.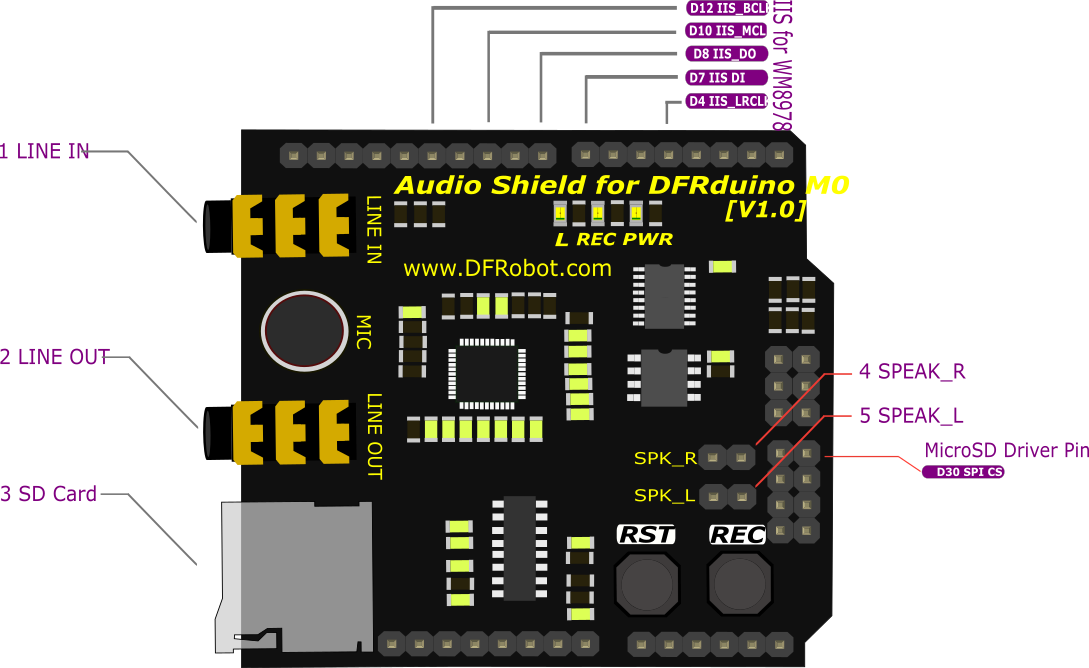 | PIN | Description |
| --- | --- |
| LINE IN | Microphone connector 3.5 mm . |
| LINE OUT | Headphone Jack 3.5 mm. |
| SD Card | Slot for micro SD card. |
| SPEK_R | Connector of the right speaker. |
| SPEAK_L | Connector of the left speaker. |
Key features
Professional chip of codec Hi-Fi M8978
Standard IIC interface
Dual amplifier 3 W
Board has a connector Jack 3.5 mm and microSD card slot 
Specification
Working voltage: 5 V
Maximum current: 2 A
Audio format: wav files
Input interface: microphone jack 3.5 mm
Output interface: headphone jack 3.5 mm
Dimensions: 55 x 53 mm
Weight: 26 g