Description: Li-Pol Imax B3 Pro charger with balancer
Maintenance-free and simple charger Imax B3 PRO with balancer. The device is powered by 230V, 50Hz mains voltage, so it does not require an additional power supply. Compatible with 2S and 3S lithium-polymer batteries (7.4V and 11.1V). The batteries are connected through the balancer connector.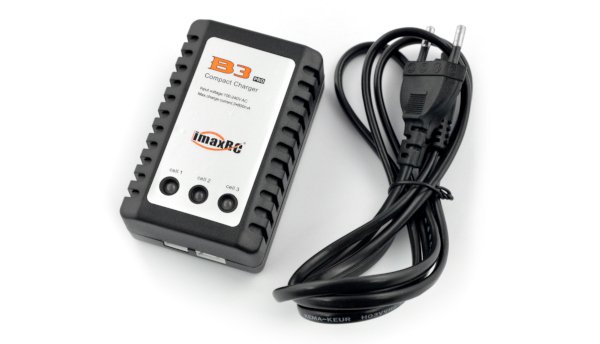 Charger for Li-Pol - Imax B3 Pro packages.
Set contents
Imax charger
Power supply cable 230 V
Determination of diode indicators:
Red light: charging
Green light: end of charging or interruption of charging
Observe the starting sequence of the charger:
1. connect the charger to the power supply.
2. waiting for the correct start (the indicators light up green).
3) Connecting the battery, the indicators will turn red,
4. the end of the charge will be indicated in green.
Charger specifications
Supply voltage: 110-240V AC 50 Hz
Charging current: up to 850 mA
Supported packages: 2-3 targeted LiPo (7.4 and 11.1V)
Charging sockets:

service plug for balancer 2 and 3 targets,
standard: Gens Ace, Haiyin, Kypom, E_Sky, 3E Model, Redox, Align, Turnigy

Dimensions: 100 x 60 x 35mm
Weight: 180g