Description: Mechanics Laboratory construction kit - Racing car - Clementoni 50520.
Theconstruction kit fromthe series Laboratory ofMechanics containsmore than 350 elementsthat will allowtheconstruction of more than50 structures that will introduce the youngestto the world ofmechanics. The set is accompanied by an illustrated manual, which, apart from the diagrams facilitating the assembly of specific structures, explains issues related to mechanics, such ascombustion engineorgearbox.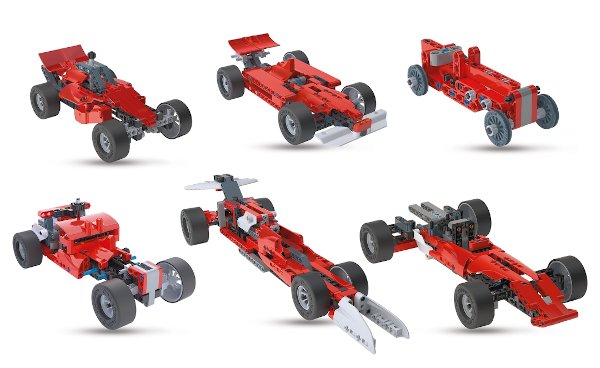 Racing cars built using the set.
Structures to build with the Clementoni 50520
Possible constructions to be built:a connecting rod and a piston, a differential mechanism and several models of a sports car. The constructionshave movable elements that allow interaction with the model and practical knowledge of their operation.

Mechanical elements are built from the elements of the set.
Specification of the set Mechanics Laboratory
Number of elements: over 350
Number of structures: over 50
Age: 8+
Dimensions: 451 x 310 x 70 mm
Manufactured in Italy