Product description: Electro-Fashion extended set with six LED modules
An extended set ofElectro-Fashionallowing you to createintelligent clothingprojects. Specially selected elements allow to create light effects integrated into the clothes. Six meters of conductive threadcreatesa large stock for more extensive projects. The modules are powered byCR2032 and CR1220batteries.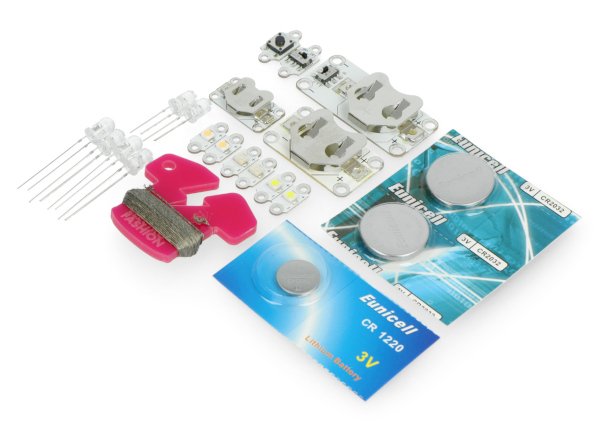 Contents of the extended Kitronik Electro-Fashion.
Main features of the kit
The most important features of the extended set are:
Complete instructions for use.
A multitude of application possibilities.
Sufficient number of elements to start designing your own solutions immediately.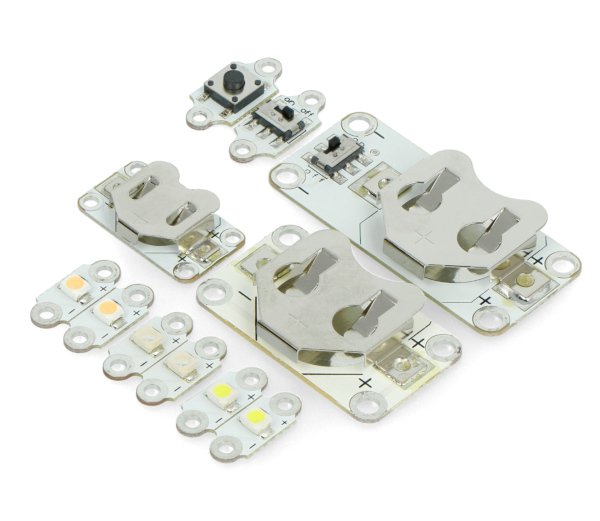 Electro-Fashion Kitronik extended set modules.
Additional materials
The manufacturer providesadditional materialsrelated to intelligent clothing design.
Kit contents:
2x blue LED module
2x white LED module
2x module with LED in sakura (lilac) colour
2x blue flashing LED
2x green, flashing LED
2x white, flashing LED
1x slide switch
1x push-button switch
2x battery CR2032
1x battery CR1220
6 m of conductive thread
tin plate module for CR2032 battery
tin plate module for CR1220 battery
Switch module, for CR2032 battery
Specification of the Smart Clothing Creation Kit
LED colours: blue, green, white, sakura (lilac)
Lens type: transparent (all diodes)
The angle of light:

diode modules: 120°
flashing green and blue LEDs: 40°
flashing white LEDs: 30°

LED modules:

Luminosity:

Blue: 300 mCd to 450 mCd (for 20 mA)
White: 1600 mCd to 1800 mCd (for 20 mA)
Sakura (lilac): 1900 mCd (at 20 mA)

Power supply voltage: 3 V

Blinking LEDs:

Voltage drop: 3 V to 5 V
Maximum current in the conduction direction: 20 mA
The light:

Blue: 3500 mCd (at 20 mA)
Green: 4000 mCd (for 20 mA)
White: 8400 mCd (for 20 mA)

Slide switch:

Maximum switchable current: 30 mA
Maximum switchable voltage: DC 6 V

Push switch:

Maximum switchable current: 50 mA
Maximum switchable voltage: 12 V DC

CR2032 battery voltage: 3 V
CR2032 battery capacity: 200 mAh
Battery voltage CR1220: 3 V
Battery capacity CR1220: 40mAh