Description
iNode Control ID works the same as iNode Control Point. All information on the verification of the remote devices is transmitted via UART to the cooperating microcontroller, which knows if the authorization was successful. It communicates via Bluetooth 4.0. The module can be used in RFID systems.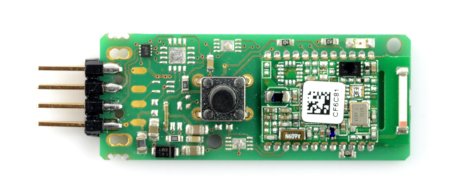 If the ID authorization ID is successful, then the device stores this information iniNode Control ID. Further scanning of this information from the iNode Control ID allows you to say what rooms a person carrying this ID has visited.

The module has 2x 4-pin 2.54mm connector with RS232 standard (low voltage)output and input. You can use it in your own driver to communicate in a simple way with devices type BLE, e.g. iNode.
Software:
Apps for ANDROID and WINDOWS. Configuration software iNodeSetup.exe works on Windows with Bluetooth adapter based on the CSR 8510 chipset or Serial USB Transceiver iNode, iNode LAN. Linux system requires iNode Serial Transceiver USB and/or iNode LAN, and e.g. Ubuntu with Wine. The current version of firmware for iNode products available on the technical support site: http://support.elsat.com.pl/ user: inode, with no password.
Application
People and vehicles movement control
Work time control
Home automation
Gate automation
Specification
Bluetooth BLE - configurable from a PC

power: -18 dBm to 8 dBm (the maximum distance up to 200m in open space)
the name of the device
password and UUID to verify iNode control ID
optional URL to send to the app on your smartphone
sensitivity threshold - RSSI (check range)
Power supply: from 1.8V to 3.3V
Signaling the connection with LEDs

The possibility of replacing the software via UART Protocol X-modem

Connector: 2x 4pin - 2.54 mm raster
One button control
Working temperature: from -20°C to 45

°C

Humidity: 20% to 80% RGH
Chipset: CSR 101x
Dimensions: 50 x 16mm
Weight: 15g