Product description: SparkFun QuickLogic Thing Plus - EOS S3 - machine learning module - SparkFun DEV-17273
QuickLogic Thing Plus board created by SparkFun for developing applications using machine learning. The module is based on a powerful EOS S3 chip with ARM Cortex-M4F eFPGA, being fully supported by Zephyr RTOS and FreeRTOS. The board was based on 100% open source, Feather compatible hardware and built around 100% open source software.
The device features a built-in Li-Pol battery connector and battery charging circuit, a Wake-on-sound PDM microphone, and a low-power, three-axis accelerometer, making it ideal for voice and gesture detection. With the ability to transfer data to an FPGA chip, you can use SensiML, TensorFlow or other tools to run embedded machine learning algorithms. The board also includes a Qwiic connector to quickly connect to an ecosystem of more than 150 I2C-compatible boards, such as sensors, RFID readers, displays, keypads and relays.

A board designed for machine learning - QuickLogic Thing Plus.
Other features of QuickLogic Thing Plus
QuickLogic EOS S3 MCU platform
ST micro LIS2DH12TR accelerometer
MEMS PDM digital piezo microphone Vesper VM3011 Adaptive ZeroPower Listening
Qwiic connector for quick and easy connection of additional I2C modules
16 Mb on board Flash memory
Built-in user button and RGB LED
Powered by USB C connector or single Li-Pol battery
Built-in battery charging circuit
USB data signals linked to programmable logic
IO signals transferred to general purpose connector
Compatible with standard 2.54mm pin board
QuickLogic Thing Plus board specifications
EOS S3 MCU + eFPGA SoC

ARM Cortex-M4F

clocking up to 80 MHz
up to 512 kB SRAM

Embedded FPGA (eFPGA)

2400 effective logic cells
64 kb RAM

Thing Plus

pin raster: 2.54 mm
dimensions: 70 x 22.9 mm
GPIO pin layout (20) compatible with Feather + 14 additional GPIO pins

Interfaces

SWD connector for programming with USB-TTL converter
signals from USB sent to eFPGA software logic
UART available via I/O pins
I2C available via I/O pins and Qwiic
SPI
I2S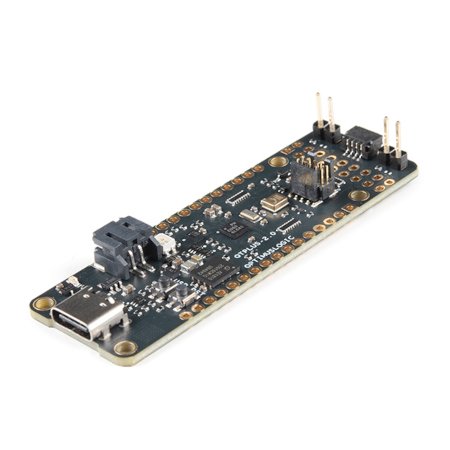 SparkFun QuickLogic Thing Plus machine learning board.
Memory

16 Mb SPI NOR Flash - GigaDevice GD25Q16CEIGR

Sensors

3-axis 12-bit accelerometer - STMicro LIS2DH12TR
Digital pulse density modulated (PDM) microphone with Wake-on-Sound (WoS) function - Vesper VM3011-U1

User interfaces

RGB LED
user button
Reset button

Power supply

USB C connector (adjustable up to 3.3V)
Li-Pil battery 3.7 V
built-in battery charger - Microchip MCP73831/2
standard Li-Pol JST connector

Software

machine learning
real-time operating systems

FPGA Tools