Description
Sensor of electromyography (EMG), which measures the activity of muscles and, in proportional way, changes this value to a voltage ranging from 0 V to Vs, where Vs is the power supply voltage from 3.1 V to 5 V. It allows you to control various devices without the need to use the buttons and switches.
The module allows connection
of the biomedical electrode
s directly, without the need of cables. The sensor has output the RAW EMG, power pins with protection against reverse polarity, LEDs and built-in switch.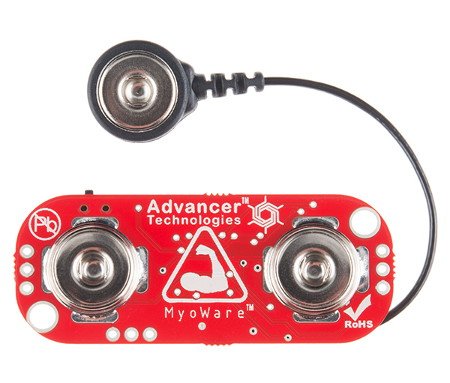 Specification
Supply voltage: 3.1 V to 5 V
Protection from reverse polarity of the supply voltage
Two modes of output
The possibility of expanding the possibilities via available caps
Indicating LEDs 
Built-in switch
Adjustable amplification
Dimensions: 52 x 21 mm
15490