Product description: Complete Starter Kit with NanoPi NEO 256 MB
Starting setforNanoPi NEOminicomputer, included: NanoPi Neo 256 MB of RAM, NanoHat OLED cap and aluminum casing. In addition, the kit includes a memory card and necessary mounting elements.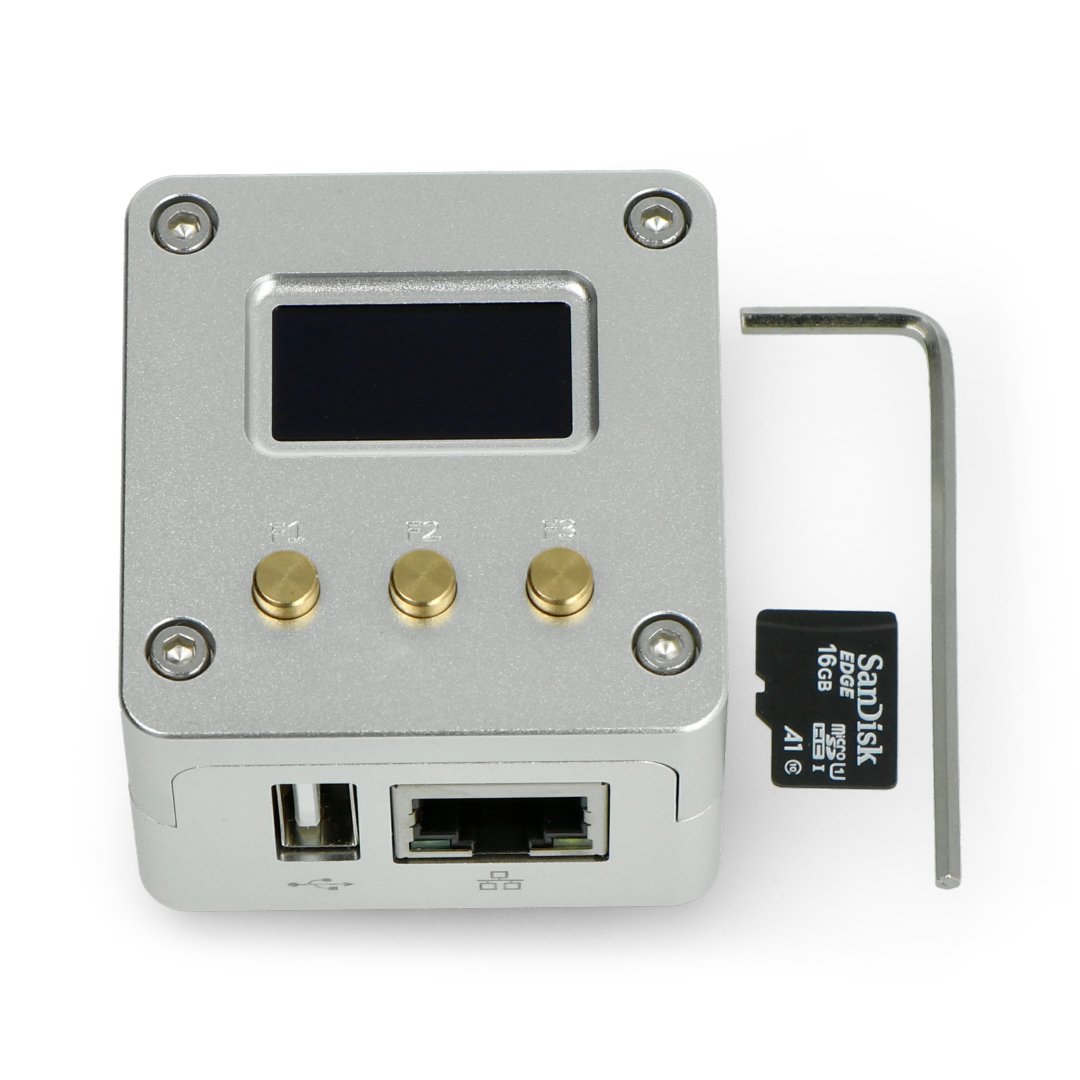 Complete Starter Kit with NanoPi Neo 256 MB RAM.
| L.p. | Photo | Name |
| --- | --- | --- |
| 1 | | NanoPi NEO 256 MB- miniature NanoPi computer in Neo 1.3 version with 1.2 GHz Allwinner H3 quad-core ARM Cortex-A7 processor. The board has 512 MB of DDR3 RAM, built-inEthernetport and USB + 2 x USB Host slot on 2.54 mm pins, 36 GPIO, microSD card slot. Works with u-boot and UbuntuCore systems. |
| 2 | | Aluminium housing - silver housing with brown buttons 44 x 47 x 33 mm. The housing also functions as a heat sink. |
| 3 | | A16 GB class 10microSD memory cardwith Linux Ubuntu 16.04 installed. |
| 4 | | NanoHat OLED - overlay for Nano Pi with 0.96" OLED display, resolution 128 x 64. |
NanoPi Neo
Miniature computerNanoPiwhen it comes toNeo v1.4with processorAllwinner H3 quad-coreARM Cortex-A7 1.2 GHz. The plate has256 MBmemoriesFRAME DDR3, built-in portEthernetandUSB port + 2x USB Host on pins2.54 mm,36 GPIO...microSD card slot. Works with manufacturer's systemsu-boot and UbuntuCore.Version v1.4 has 4-pin audio interface, 2-pin CVBS interface, supports IC power control and has holes for heatsink mounting.

Operating system for NanoPi Neo
NanoPi works with systems prepared by the manufacturer: u-boot and UbuntuCore. The disk of the device can be a microSD card, which is included in the kit.
NanoPi Neo power supply
The system uses themicroUSBconnector as the power source. The manufacturer recommends that the voltage given on the connector should be 5.0 V, while the current capacity of the power supply used should be at least 2.0 A. In our offer you will findpower supplies meeting these parameters.

The device has a USB port, connector and Ethernet port and many others.
Specification

Model
NanoPi Neo
Specification

Processor
Allwinner H3
Core
Quad-Core ARM Cortex A7
Systems
u-boot
UbuntuCore
Clocking
1.2 GHz
Memory RAM
256 MB
Memory
microSD card
GPIO socket
36-pin connector
Power supply
5 V / 2 A - microUSB
Dimensions of the tiles
40 x 40 mm
Interfaces
USB Host
1 x USB socket A
2 x USB Host on 2.54 mm pins
Network interface
Ethernet 10/100 Mbps
Video
-
Audio
audio output and microphone
on GPIO connector
Communication
UART, SPI, I2C, GPIO, PWM
Debugger
Serial port 4pin / 2.54 mm
Additional
Built-in LED
CVBS 2-pin interface
Supports IC power control
Heatsink mounting holes