Product description: Wall mounted RFID reader MW-R4B - 13.56 MHz - black
Wall-mountedRFIDcardand transponder reader operating at frequencies of13.56 MHz. It is compatible with MIFARE Classis, MIFARE Plus, MIFARE Ultralight C, MIFARE DESFire, ICODE SLI, iClass (CSN) standards. The supported communication interface is RS485. The reader is equipped with two inputs and one output of any purpose. Device has built-in RGB LED, buzzer and touch button. Housing version in black colour. Mounting pins are included.
Pinout description
The reader haseightpins in a form of wires with stripped insulation, located on the back of the casing. Detailed description of each connector is given below.
Leads description of MW-R4B reader
Cable color
Cable color Name
Function
Red
VCC
Power supply
Blue
GND
GND
White
Anti-collision
Lead for connecting readers working close to each other
Brown
PinOUT
Any purpose output
Green
PinINTERFACE1
Serial interface line: RS485_B
Yellow

PinINTERFACE2

Serial interface line:

RS485_A

Gray
PinIN0
Any purpose input
Pink
PinIN1

Any purpose input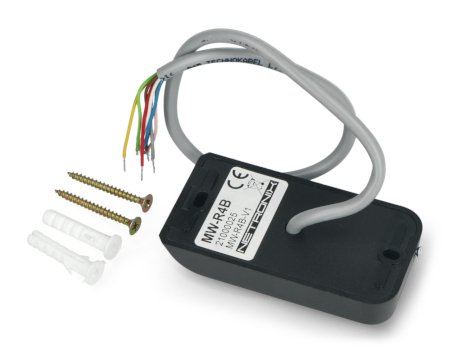 Set contents.
Specification for MW-R4B RFID Reader
Supply voltage: 8 V to 15 V
Maximum supply current: 120 mA
Average current consumption: 25 mA
Rated RF Frequency: 13.56 MHz
Supported standards: MIFARE Classis, MIFARE Plus, MIFARE Ultralight C, MIFARE DESFire, ICODE SLI, iClass (CSN only)
Supported communication interfaces: RS485
Operation with Netronix and MODBUS-RTU protocol
Number of GPIO pins: 3
Card and transponder reading distance: up to 8 cm
Protection class: IP54
Front button type: capacitive
Built-in buzzer, antenna, RGB LED
Housing colour: black
Dimensions: 83 x 44 x 14 mm