Product description: Ohbot 2.1 educational robot with software - for Windows
Ahead-shapededucational robotfrom the British company Ohbot equipped with 7 drives. The robot is ready to use or can be assembled in a set by itself. It uses block and Python coding on Windows, Mac,Raspberry Piplatforms. Designed for children over 7 years old. Available inOhbot for Windows(blue) andOhbot for Pi(red). The robot helps you understand the basics ofArtificial Intelligence (AI), how coding affects the physical device and allows you to create your own designs. It is also useful for learning computational thinking, abstract thinking, analysis and reasoning. It detects movement and recognizes speech, faces, emotions, gender or age. Ohbot can be optionally equipped with a set of sensors, glowing, colored eyes, a set of sound effects or a camera with a mount.


Ohbot for Windows

TheOhboteducational robot for Windows is used to learn block and Python coding from scratch. In the promotional material you can see its use in teaching children in primary school in Castleview (UK). In order to start programming, you need to connect the robottoa computer running on this operating system.Ohbotworks with a graphical programming language based onScratch. The set includes sequences for solving everyday life problems suitable for children over 7 years old and supports the learning of computational thinking.
Ohbot for Pi
To start programming, connect the robot to theRaspberry Picomputer. Support for the Python language library allows you to control the robot from this programming environment. It contains simple commands for thePythonlanguage to move the drives. Converts text to speech (text-to-speech technology) in Python together with facial synchronization when speaking words.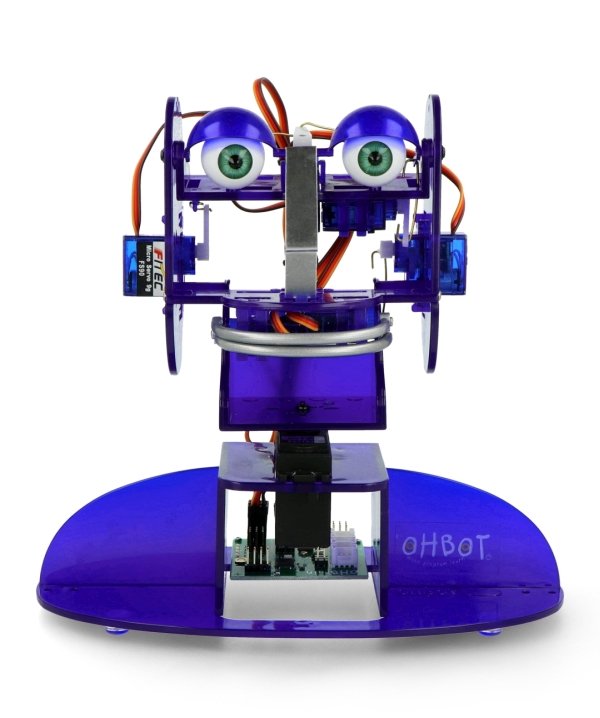 Ohbot education robot.
Ohbot's construction and capabilities
Ohbot was designed to look like a human head. Equipped with up to 7 servos, it is able to express your emotions and commands like a real person. Ohbot's functions depend on your creativity! Use Scratch block programming or Python scripting language to make your robot:

Speak any language,

He sang for karaoke,

He ran a fitness class,

He followed the weather,

He gave the time and date.
On the producer's website there are starter courses for beginners withicohem and Ohbot, Scratch coding and Python language, as well as numerous materials and projects. They were checked in British schools, among others.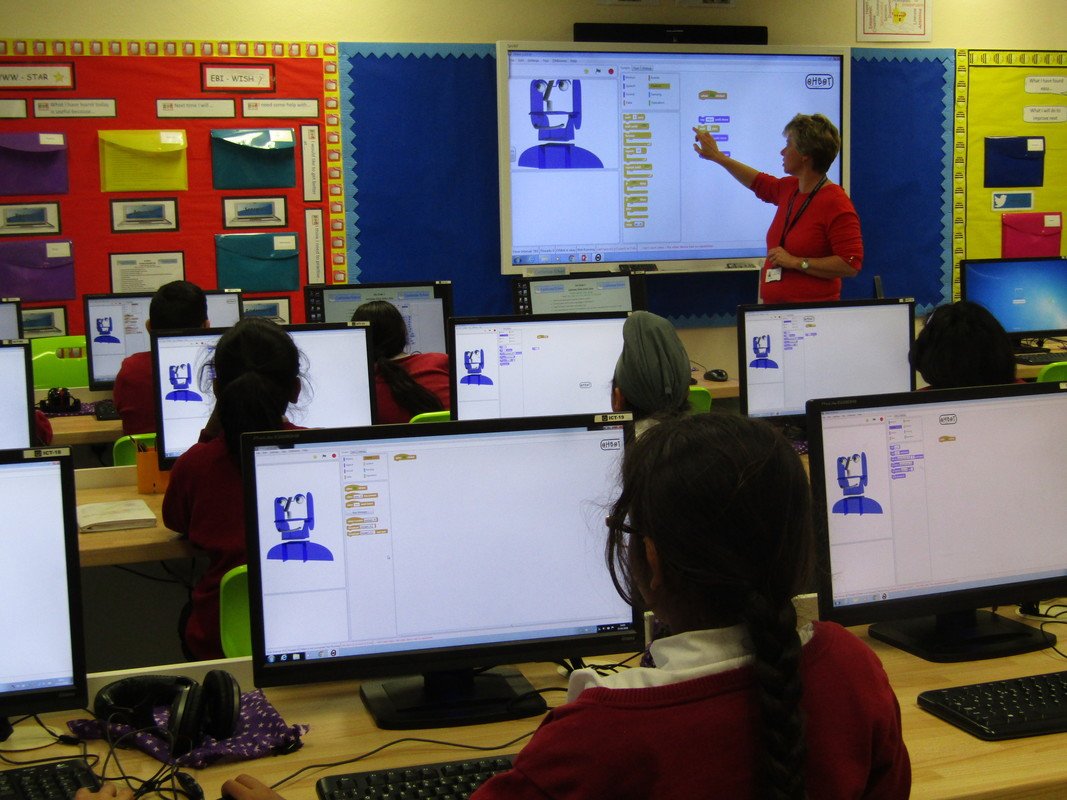 Ohbot used in British schools.
Set contents
Robot Ohbot v 2.1
USB cable
4 graphics software user licences (Windows 7 or higher required)
Specification of the educational robot
Designed for Windows

Operating systems: Windows 7/8/10

Min. processor and RAM: recommended by the operating system

Hard disk space required: 50 MB

Interface: USB

Graphics: SVGA or better

Other: Access to the Internet to download software

Drives: 7

Dimensions (without packaging): 20 cm x 19 cm x 10 cm

Weight (without packaging): 323 g

Colour: blue

Your age: 7+