Product description: Cable tester RJ11 / RJ45 / PoE / Coaxial - Lanberg NT-0404
Cable tester that allows to check correct configuration of pinsin10Base-T, 10Base-2, modular RJ45/RJ11, 258A, TIA-568A/568B cables and Token Ring cables. The tester allows to easily check the continuity of cables anddetecttransmissionproblems. The remote moduleallows tocarry outtests on long cables, ending up even in other rooms. The product is powered by one 9-volt battery, which must be purchasedseparately.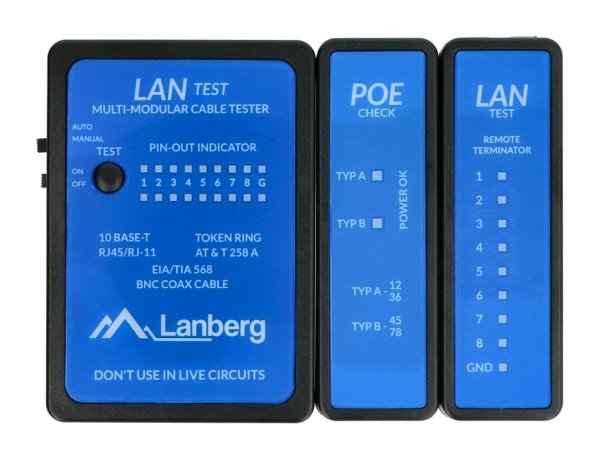 Lanberg NT-0404 network cabletester.
Product capabilities
Verification of correct pin configuration in 10Base-T, 10Base-2, RJ45/RJ11, 258A, TIA 568A/568B and Token Ring cables

Verification of the status of the tested cable and check its continuity, and detection of problems such as: short circuits, incorrect conductor arrangement, or vice versa, connection of conductors to pins

Testing very long cables, even if they end up in other rooms

Grounding test

Scan mode selection - automatic or manual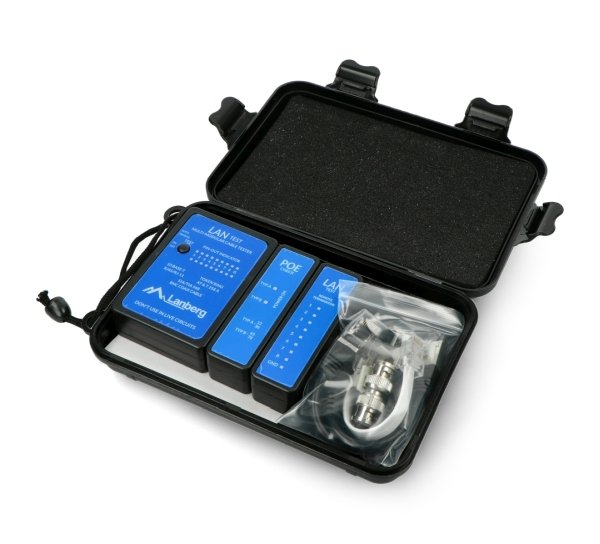 The set is in a dedicated case for easy transport of all accessories.
The set includes
1 x LAN tester main module

1 x Remote module (terminator) LAN tester

2 x BNC cable adapter

1 x BNC adapter M/M

3 x RJ45 to RJ11 adapter

1 x Set case

1 x Operating Instructions
Test kit for telephone, LAN and coaxial cables
Lanberg's modular network cable tester is designed for installation and service work on telephone cabling and computer networks. The whole set consists of three separate devices, allowing for testing a number of different cables, in the most frequently used configurations.
The base unit acts as a test pulse transmitter. Two RJ45 sockets allow easy testing of cables in the "local loop" - provided that both ends of the cable can be connected to the same device. In the case of cables whose ends are far apart, it will be necessary to use a remote module (terminator).
Lanberg tester's advantages
The presented device has built-in RJ45 sockets, but it also allows you to test coaxial cables and telephone cables with RJ11 plugs. For this purpose the included RJ11 to RJ45 adapters are used. The whole set is packed in a special, handy case.
RJ11/RJ45/Coaxial cable tester - Lanberg NT-0404 signals with a ruler of LEDs all transitions, short circuits between the wires of the cables and exchanged or crossed pairs. It has automatic and manual scanning modes. An additional, third module (of the size of the already mentioned terminator) allows to test the PoE power supply, provided by compatible network devices (e.g. LAN switches).