Description
Complete module for controlling one240 V AC, 12 V DC and 24 V to 60 V DCdomestic device with power up to3.5 kWviaWi-Finetwork using a dedicatedsmartphone appfrom anywhere in the world. In order to use Shelly1 you just need to set up the device via a web browser. The device hasscrew terminal block connectorsfor connecting wires. Compact size enables you to place the unit in ajunction box.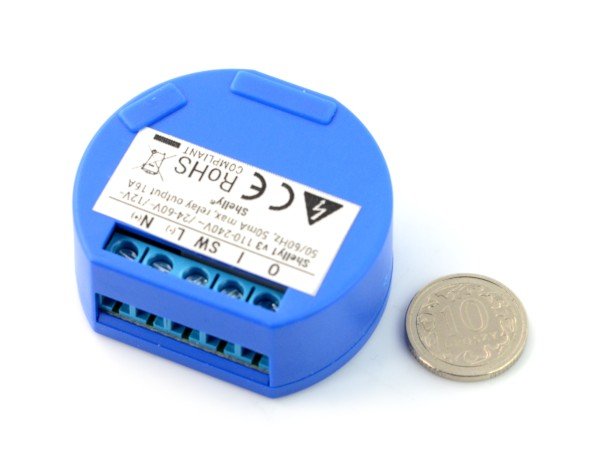 The device hasscrew terminal block connectors for connecting wires, its compact size allows you to place the module in a junction box.
Wiring diagram
Before connecting, switch off the voltage in the powered circuir. A driver must be installed in a place protected from the weather conditions and from access by third parties.

Wiring diagram
The module has five inputs in the form of screw terminal block connectors, which can connect the wires with a screwdriver:
N(+) - power, the neutral wire - ground
L(-) - power supply: 110 V to 240 V
O, I - input and output with a zero potential
SW- entrance of the relay controlling the O output
Setting up
You need to connect to a wireless network device called "shellyswitch-xxxxxx" where "xxxxxx" is the serial number of the device,then use the Android Playorthe AppStore and download the Shellyapplication. For initial setup of the device, you must click the default name of the device.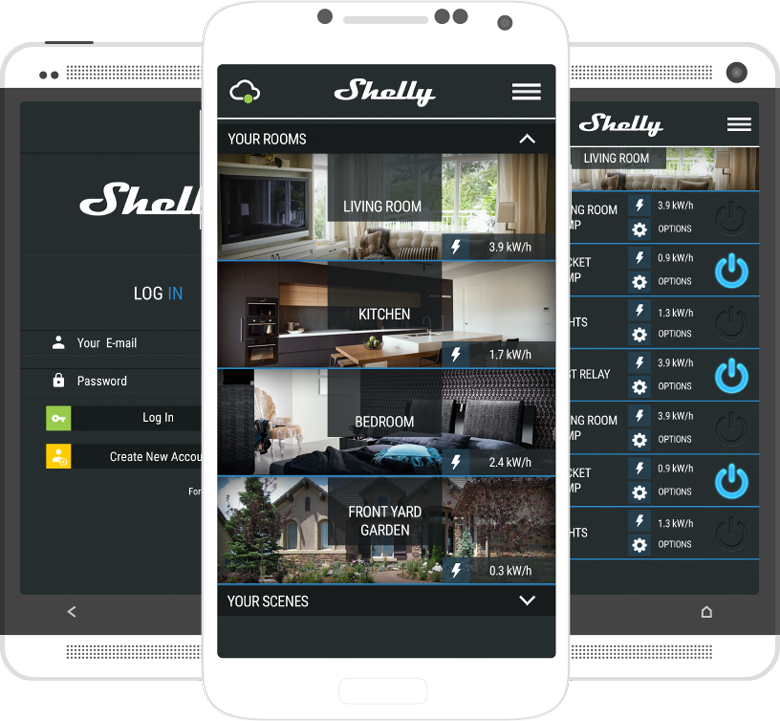 You can also set up the device via the website, for this you need to connect to a wireless network of the device, then just launch the Internet browser and enter the IP address of the device:http://192.168.33.1Setup page will appear where you must select your home Wi-Fi network and enter the password.
Specification
Power supply:

from 110 V to 240 V AC
12 V DC
24 V to 60 V DC

Energy consumption: less than 1W
Number of outputs: 1
The type of control output: relay
Load current: up to 16A
Load capacity: up to 3500 In
Open API
Connector for software updates
Number of inputs: 1
Connection standard: wi-fi 802.11 b/g/n
Compatible devices: iPhone, iPad, iPad Mini, Android, computers and mobile devices with HTML5 support
Module dimensions: 41 x 36 x 17 mm