Product description: LOGO! 8 Starter Kit 12/24RCE - Siemens 6ED1057-3BA01-0AA8
The LOGO! starter kit from Siemens. The set comprises the SiemensLOGO! 8 12/24RCEmain module, power supply unit,LOGO! Soft Comfort V8software, WinCC Basic, screwdriver, Ethernet cat. 6 cable and a case for storing the set. With the kit you can quickly begin working with LOGO! programmable logic controllers (PLCs) from Siemens. The LOGO! 8 has an integratedEthernet interface, a TDE-based Web server and an integratedModbus TCP/IPprotocol.
The LOGO! 8 set contents
PLC Siemens LOGO! 8 12/24 RCE
24 V / 1.3 A power supply
LOGO! Soft Comfort V8 software
WinCC Basic
Ethernet cable
Screwdriver
Tanos carrying case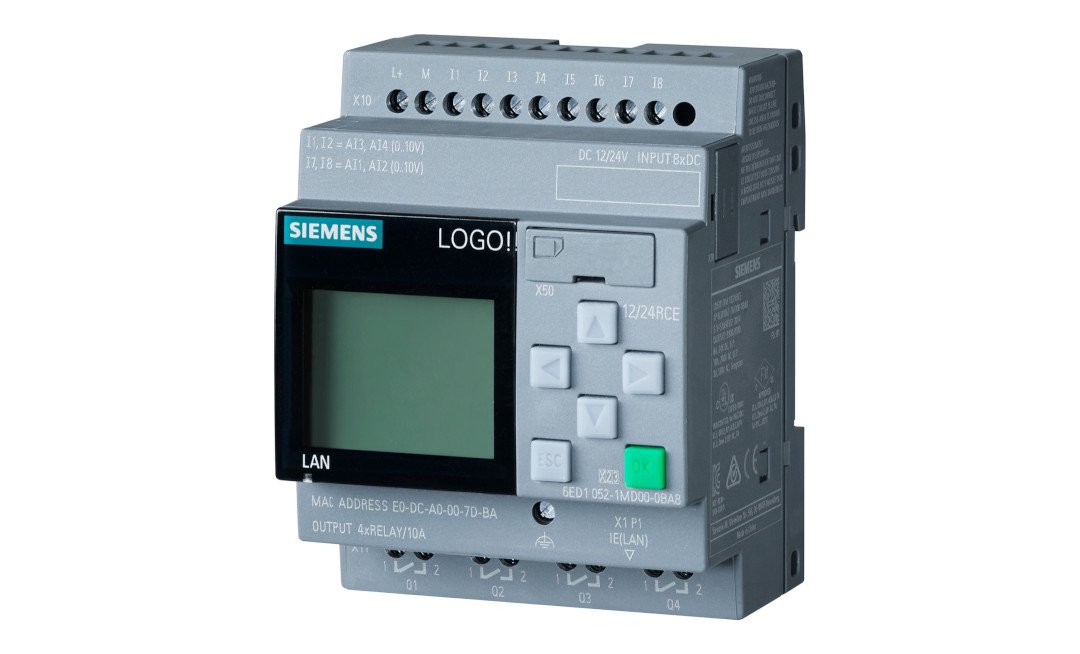 LOGO! 12/24 RCE PLC of the Siemens brand.
LOGO! 12/24 RCE PLC of the Siemens brand.
The LOGO! 12/24 RCE PLC of the Siemens brand is mainly used in industrial automation for controlling machines, as well as in building automation. It is equipped with a3-color displayand has protection classIP20. The controller's operating voltage is12 V or 24 V.It has400 function blocks. LOGO! 12/24 RCE has8 digital inputs, 4 of which can be used as analoginputs(0 V to 10 V) and4 digital outputs. The controller with display is programmed via theEthernetinterface. Communication with other LOGO! modules and SIMATIC S7 devices is possible via Ethernet. The built-inweb servermakes it possible to control the device remotely with a smartphone, tablet or computer. It is also possible to create web pages in the form of visualizations.
How to program a PLC?
The Starter Kit comes withLOGO! Soft Comfort V8software on DVD. You can program LOGO! PLCs from Siemens in a simple and user-friendly way. You can create user programs by selecting the appropriate functions and linking them bydrag&drop.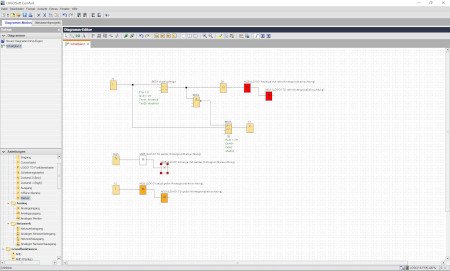 The LOGO! Soft Comfort program interface.
LOGO! 12/24 RCE PLC specifications
Supply voltage
12 V or 24 V
Mounting
DIN 35 mm rail
Built-in display
3-colour
Digital inputs
8, of which 4 can be used as analogue (from 0 V to 10 V)
Digital outputs
4, relay
Output current
10 A
Relay outputs

3 A with inductive load

10 A with resistive load

Operating temperature
from -20°C to 55°C
Storage temperature
from -40°C to 70°C
Dimensions
71,5 x 90 x 60 mm