Product description: LOGO! 8 Starter Kit 12/24RCE + HMI - starter kit with 12/24RCE module and HMI display - Siemens 6AV2132-0KA00-0AA1
A LOGO! starter kit from Siemens, consisting of a SiemensLOGO! 8 12/24RCEmain module,HMI touchscreen display, power supply unit, softwareLOGO! Soft Comfort V8, WinCC Basic, screwdriver, Ethernet cat. 6 cable and a set storage case. The set enables you to quickly begin working with LOGO! programmable logic controllers (PLCs) of the Siemens brand. LOGO! 8 has an integratedEthernet interface,a TDE-based network server and an integratedModbus TCP/IPprotocol.
The LOGO! 8 set contents
PLC Siemens LOGO! 8 12/24 RCE
KTP400 Basic HMI display
Power supply 24 V / 1.3 A
LOGO! Soft Comfort V8 software
WinCC Basic
Ethernet cable
Screwdriver
Tanos carrying case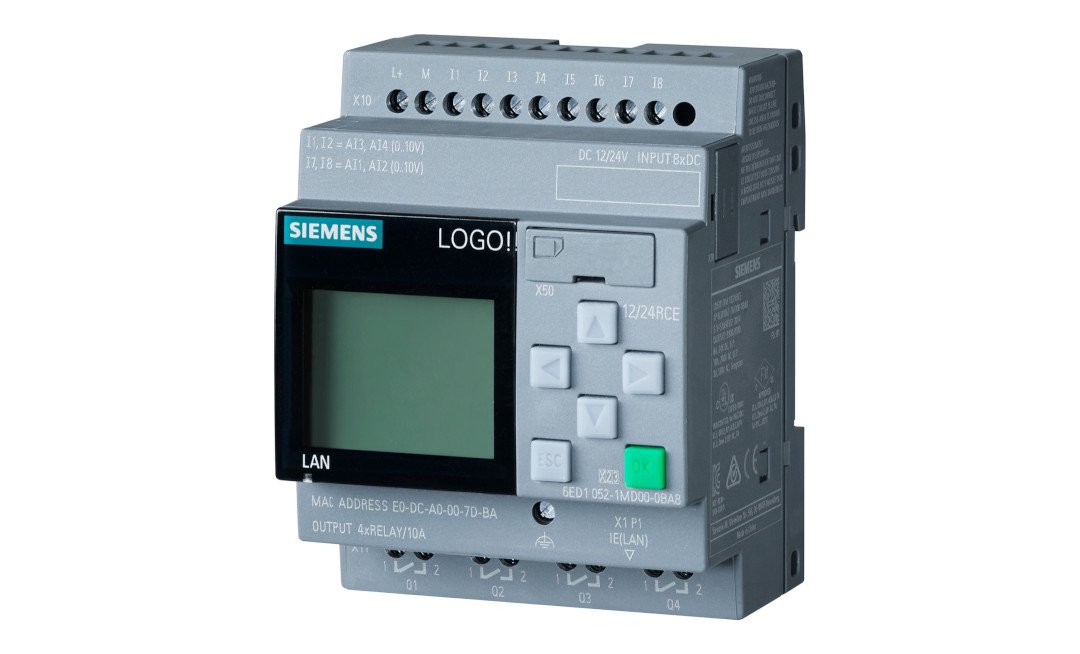 LOGO! 12/24 RCE PLC of the Siemens brand.
The LOGO! 12/24 RCE PLC from Siemens
LOGO! 12/24 RCE of the Siemens brand is used in industrial automation for controlling machines, as well as in building automation. The PLC has a3-color displayand the protection class isIP20. It works with a voltage of12 V or 24 V.It has400 function blocks. LOGO! 12/24 RCE has8 digital inputs, 4 of which can be used as analoginputs(0 V to 10 V) and4 digital outputs. The controller with display is programmed via theEthernetinterface. Communication with other LOGO! modules and SIMATIC S7 devices is possible via Ethernet. The built-inweb servermakes it possible to remotely control the device with a smartphone, tablet or computer. It is also possible to create web pages as visualizations.
How to program a PLC?
You will also find theLOGO! Soft Comfort V8PLC software on DVD. With the help of this software it is possible to program a Siemens LOGO! PLC in an easy and user-friendly way. The software allows you to create user programs by selecting appropriate functions and connecting them bydrag&drop.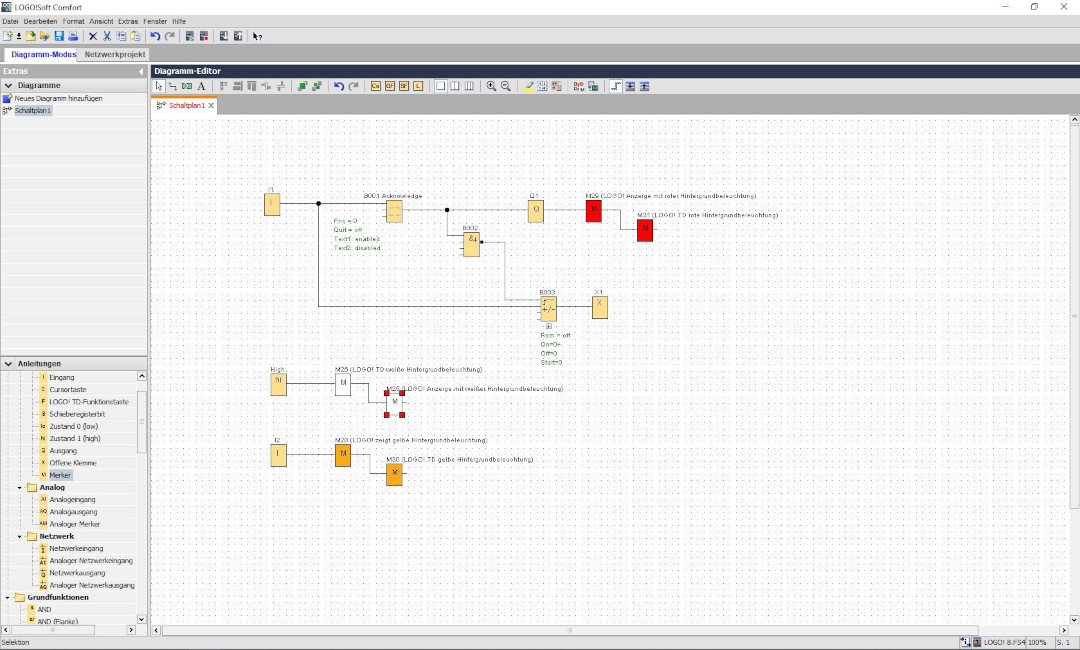 LOGO! Soft Comfort program interface.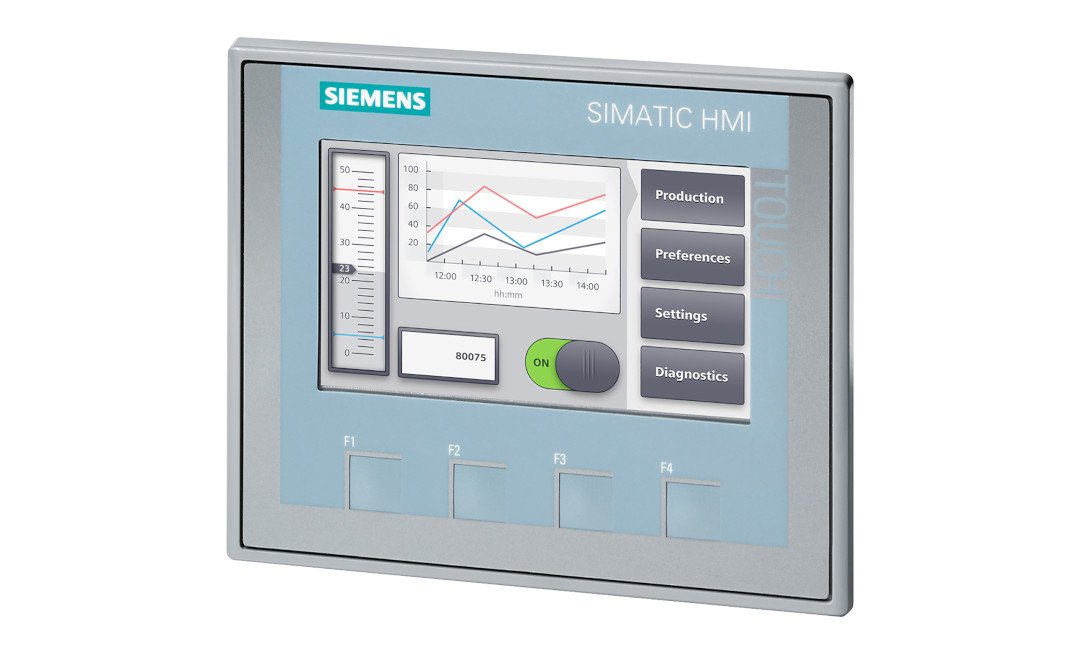 HMI display for LOGO! PLC.
HMI display for PLC
The HMIKTP400 Basichas a4"TFT display with 65536 colors, which can be operated by touch or function keys. Communication with other devices is possible via Profinet interface. Configuration is possible with WinCC Basic V13.
LOGO! 12/24 RCE PLC specifications
Supply voltage
12 V or 24 V
Mounting
DIN rail 35 mm
Built-in display
3-colour
Digital inputs
8, of which 4 can be used as analogue (from 0 V to 10 V)
Digital outputs
4, relay
Output current
10 A
Relay outputs

3 A with inductive load

10 A with resistive load

Operating temperature
from -20°C to 55°C
Storage temperature
from -40°C to 70°C
Dimensions
71.5 x 90 x 60 mm
HMI display specifications
Module type
KTP400 Basic color TN
Matrix
TFT, LED backlight
Display size
95 x 53,9 mm
Resolution
480 x 272 px
Diagonal size
4,3"
Number of function keys
4
Power supply voltage
24 V
Current consumption
125 mA
Processor type
ARM
Buzzer
embedded
Protocol
PROFINET, EtherNet/IP
Dimensions
141 x 116 x 33 mm
Weight
360 g