Product description: LOGO! TDE - 6x20 text display for LOGO! 8 - Siemens 6ED1055-4MH08-0BA1
A LOGO! TDEtext display with twoEthernetinterfaces, designed for connecting aLOGO!logic module. It hassix lines with twenty characters(6 x 20) on each line, which makes it possible to display messages in plain text. It is also possible to adjust the backlighting inwhite, orange and red, which can be selected according to your preferences. The Ethernet connection allows data transfer over a distance of more than ten metres between the LOGO! TDE and the LOGO! 8. The panel can be supplied with 12 V or 24 V. Compatible with all LOGO! 8 modules.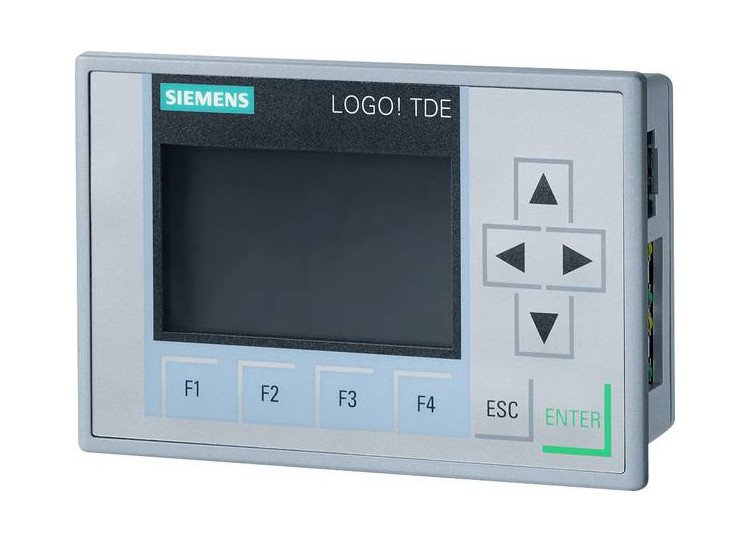 LOGO! TDE text display.
How do I program a PLC?
The text panel connects to a PLC, all of which can be configured and coded in the LOGO! Soft Comfort V8software on the DVD. With its help it is possible to program the Siemens LOGO! PLCs in an easy and user-friendly way. The software allows you to create user programs by selecting the appropriate functions and connecting them bydrag&drop.
Specification for the LOGO! TDE text panel
Type
text
Matrix
FSTN
Compatibility
LOGO! 8 or higher
Size
6 x 20
Backlight
LED
Control
touch / buttons
Supply voltage
12 V or 24 V
Protection class
IP65
Working temperature
from -20°C to 55°C
Storage temperature
-40°C to 70°C
Configuration tool
LOGO! Soft Comfort V8
Housing material
plastic
Dimensions
128 x 86 x 38.7 mm
Weight
220 g