Product description: Solid state relay SSR Fotek - 60 A 380 VAC / 32 VDC
Solid state relay, single-phaseSSR Fotek with theACvoltage of380 VandDCvoltage of32 V. Rated current is60 A.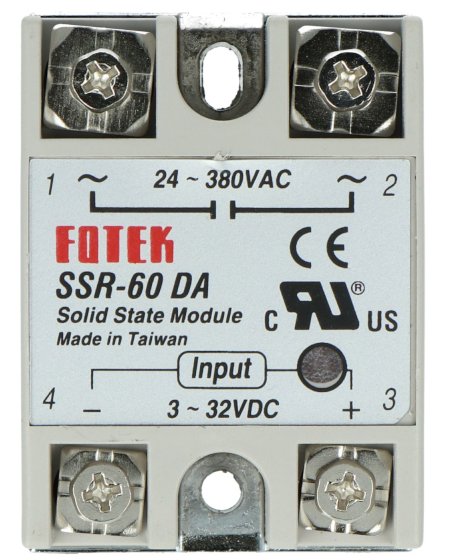 Voltage of the control allows you to control relays using the Raspberry Pi.
Through the use of semiconductor technology, the relay has no mechanical contacts which positively affects the service life of the equipment. No contacts also meansno noise during switching. Relays of this type are used for switching the receivers with the high frequency with high power in single-phase devices.
Specification of the relay SSR Fotek
Operating voltage (output): 24 V to 380 V AC
Control voltage (input): 3 V to 32 V DC
Rated current: 60 A
Control current: 4.5 to 20 mA
Response time: up to 10 ms
Operating temperature: -30°C to 80°C
The distance between the holes: 48 mm
Status LED
Dimensions: 63 x 45 x 23 mm