Product description: SSR 2A 8-channel solid-state relay module - 240VAC / 2A 5VDC coil - Keyes.
The module is equipped with an 8-channel,solid-state SSR relay with 5 VDC DC controlvoltageand switching AC voltage from 100 VAC to 240 VAC. The rated current is 2 A.

8-channel SSR relay module.
Thanks to the use of semiconductor technology, the relay has no mechanical contacts, which has a positive impact on the durability of devices. No contacts also means no noiseduring switching.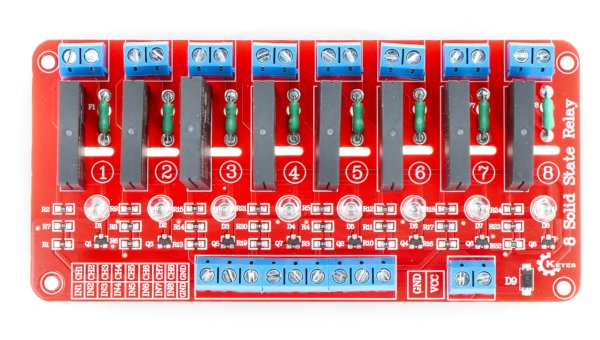 The module has terminals in the form of ARK screw connectors and 2.54 mm goldpin raster connectors.
The module can be powered by ARK or goldpin screw connectors.
Pin
Description
DC+
Supply voltage 5 V.
DC-
The weight of the system.

CH1

...

CH8

Relay control inputs, activated by a high state.

SW1

...

SW8

Connections closed when high state is detected

at the control entrance.
SSR relay specification
Relay: Omron G3MB-202P(documentation)
The tension of work: 5 V
Load voltage: 100 V to 240 V
Rated current: 2 A
The current of the moment: 30 A
Power consumption: approx. 12 mA
Number of channels: 8
Response time: 1 ms
Insulation: optotriak
Dimensions: 105 x 55 x 25 mm